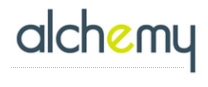 We are very pleased to receive this award, said Alchemy Publisher, Lisa Balter Saacks. We are excited about the future of Alchemy as it aims to be a leading source of information on alternative investments.
New York, NY (PRWEB) December 06, 2011
Alchemy, a SecondMarket publication devoted to the next generation of alternative investments, announced today that it has received the prestigious Pearl Award from the Custom Content Council for "Best New Magazine, Editorial." The award was granted to only three publications, and Alchemy is the sole award-winning publication produced entirely in-house, rather than by a custom publishing agency. The award announcement follows the recent release of the Winter 2011 issue of Alchemy.
More than 600 entries were submitted to the Custom Content Council's annual awards program, representing publications produced from an array of companies ranging from Panera Bread to Verizon Wireless. Awards were presented in the areas of design, editorial and strategic initiatives in print and digital custom media.
"We are very pleased to receive this award and are proud to be recognized among such prominent brands as Bloomingdales, Four Seasons and Lamborghini," said Alchemy Publisher, Lisa Balter Saacks. "We are excited about the future of Alchemy as it aims to be a leading source of information on alternative investments."
Alchemy's Winter 2011 issue highlights investment opportunities in emerging and frontier markets, including the Middle East and North Africa. The new issue also examines several esoteric non-exchange-traded assets including life settlements, leasable assets, film finance and colored diamonds.
"As we continue to bring investors unique information and viewpoints about alternative investing, we are looking forward to further developing Alchemy's interactive online community," said Alchemy Managing Editor, Leila Zogby. "In addition to Alchemy's quarterly issues, we will be providing several online exclusives and new content on a monthly basis."
Alchemy is a SecondMarket publication created in Spring 2011 to serve as a vehicle to provide distinctive alternative investment knowledge. Subscriptions of Alchemy can be reserved online.
About Alchemy
Alchemy is an award-winning global publication covering the next generation of alternative investments. Alchemy analyzes, features and discusses the universe of alternative investing and brings readers the expertise of thought leaders who follow these investments. Alchemy focuses on objective, expert information that alternative investment professionals and investors can use to make informed decisions. Alchemy received the 2011 Pearl Award for Best New Magazine.
To view an online version of Alchemy, please click here.
About SecondMarket
SecondMarket is the leading marketplace for alternative investments. It has become the online destination for accessing market data, building your investor network and transacting in assets such as private company stock, structured products, public equity and bankruptcy claims. SecondMarket centralizes and simplifies secondary market activity by connecting buyers and sellers, and providing world-class market and operations expertise. SecondMarket has over 75,000 participants including global financial institutions, regional and community banks, hedge funds, private equity firms, mutual funds, corporations and other institutional and accredited investors. SecondMarket's shareholders include FirstMark Capital, New Enterprise Associates (NEA), SVB Financial Group (Nasdaq: SIVB), the Li Ka-Shing Foundation, Dunearn, a subsidiary of (Singapore) Temasek Holdings, and The Social+Capital Partnership L.P. SecondMarket is a registered broker-dealer (Member FINRA, MSRB and SIPC) and is a SEC-registered Alternative Trading System. The company was selected as a 2011 Technology Pioneer by the World Economic Forum in Davos, Switzerland. For further information, please visit http://www.SecondMarket.com.
Follow us on Twitter and like us on Facebook.
###