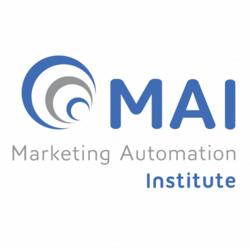 Grand Rapids, MI (PRWEB) December 06, 2011
The Marketing Automation Institute (MAI) today announced the availability of its three initial course offerings. The mission of the MAI is to be the premier resource for vendor-neutral curriculum, training and certification for marketing automation end-users and organizations.
"Training and certification is the foundation on which we've created the Marketing Automation Institute," said Carlos Hidalgo, executive director of the MAI. "Our courses are developed by the best of the best and we are confident that our members, as well as organizations, will realize immediate value from the information presented."
All MAI courses are taught and developed by industry leading marketing and subject matter experts including Steve Gershik, Principal of 28Marketing, Larissa DeCarlo, Founder and Principal of Marketing Operations Works, and Jay Hidalgo, President of The Annuitas Group and others who have helped define this field of study. Each course can be accessed on-demand allowing the end-user to attend at their convenience, navigate the content and define their pace to best suit their professional and personal development.
"Lack of trained staff is the biggest obstacle to marketing automation success. The MAI offers a vendor-neutral solution to breaking this bottleneck," states David Raab, Principal, Raab Associates Inc.
MAI courses include available now include:

Marketing Automation Foundations - The introductory course, Marketing Automation Foundations is designed to teach the basics of marketing automation technology and how to most effectively utilize its powerful capabilities.
Lead Management Process Development - Lead Management Process Development is designed to teach the marketing professional the basic principles for building a lead management process.
The Fundamentals of Marketing Operations - This course is intended to define and outline the requirements for building marketing operations function.
The MAI courses are designed to deliver essential knowledge to the student through a variety of mediums including written content, videos, podcasts, and include downloadable content for immediate use in everyday practices. Upon completion of each course, students will take the course exam and upon completion, will receive a certificate of achievement. The cost to attend an MAI course is $595. All MAI members receive a 10% discount off certification courses.
Register now for a course or join the MAI today.
About the Marketing Automation Institute
The Marketing Automation Institute (MAI) is the premiere certification body and collaborative community for B2B and B2C marketing automation professionals. Through our courses, certification, resources and events, the MAI not only helps marketing and sales professionals advance their careers but also their organizations realize a higher return on technology and program investments. With the support of industry thought leaders and technology vendors, the MAI is committed to the success of marketing automation professionals across the globe. For more information visit http://www.marketingautomationinstitute.com.
###