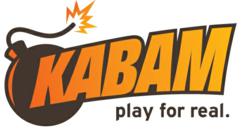 Redwood City, Calif. (PRWEB) December 05, 2011
Kabam™, the leading developer of hardcore social games, today announced the promotion of two executives, Andrew Sheppard and Amit Ranade to head the company's two new business units. Sheppard will become President of Kabam Game Studios and Ranade will be President of Kabam Game Distribution as Kabam continues to expand its worldwide scope and platforms.
"As the trend toward free-to-play, streaming gameplay model disrupts the traditional games industry, there are two key components for success – high quality games that delight and engage core gamers and the ability to optimize traffic acquisition, retention and lifetime value," said Kevin Chou, CEO and co-founder of Kabam. "Kabam was born and bred in this evolution, so the web and the cloud are central to our company DNA. We have been steadily building our game studio capabilities, technology, analytics and marketing prowess. This enables us to not only make great hardcore social games, but also to optimize the distribution of those games. This new structural alignment into two business units is a natural step for us to take and will enable Kabam to maintain its leadership in F2P core games."
In his role as President of Kabam Game Studios, Sheppard will oversee 12 development teams in the global production of web and mobile games. He will also manage the product marketing, community and player insights functions. Sheppard has served as Kabam Chief Product Officer for the past two years, leading the product strategy, product development and engineering efforts. In addition to leading the scaling of Kingdoms of Camelot®, IGN Readers' Choice Facebook Game of 2010, Kabam has released five other games to market under Sheppard's leadership, including popular titles Dragons of Atlantis™, Edgeworld™ and The Godfather®: Five Families.
Sheppard is a recognized industry leader in terms of engagement and monetization, having released 30+ virtual currency-based games and applications over the last five years. Before joining Kabam, he led hi5 Networks' transformation from a social networking site into a social entertainment destination. Prior to hi5, Sheppard's experience in the games industry included positions at Outspark, Electronic Arts and CBS Interactive. Sheppard holds an MBA from the Haas School of Business and a BA from Pomona College.
Amit Ranade will become President of the Kabam Game Distribution business unit. This unit will be responsible for acquiring, cultivating and optimizing high quality customers for Kabam hardcore social games. In this newly created role, Ranade will oversee platform operations and distribution for all games, customer acquisition, retention and lifecycle management, as well as Kabam's extensive business intelligence tools and operations. He most recently served as Vice President and General Manager of Web Games for Kabam San Francisco, where he oversaw all operations for games developed in that office.
Prior to Kabam, Ranade served in several roles at hi5 where he oversaw development of the company's portal and third party game integrations as well as managing the infrastructure team. In his various roles, he helped scale the site to hundreds of millions of users, introduced a universal currency and integrated initial launch partners for hi5 games. Before hi5, Ranade worked at Nextag, building out and scaling lead generation products. Ranade holds a BS in Computer Science from Stanford University.
"Kabam is fortunate to have two very talented executives who possess a deep understanding of the new dynamics and technologies needed for success in a games industry that is going through several major industry evolutions including higher game fidelity, new F2P genres, and new platforms." Chou said. "We have some major initiatives in place that we will be announcing soon. With Andrew and Amit leading our two new business units, we look forward to an exciting future and significant growth in 2012."
About Kabam
Kabam is leading the next wave of gaming—hardcore social games. The company's studios focus on combining the best elements of traditional and social gaming to appeal to a growing audience of gamers looking for highly immersive social games. The first wave of Kabam's games, including IGN "Reader's Choice Facebook Game of 2010" Kingdoms of Camelot, and GDC Nominated "Best Facebook Game of 2011" Dragons of Atlantis, have been widely recognized for their depth of play and social interaction. Founded in 2006, Kabam has offices in San Francisco and Redwood City, Calif., Beijing, China, and Luxembourg. More information about Kabam can be found at http://www.kabam.com.
All trademarks or registered trademarks are property of their respective owners.
CONTACT:
Anne Marie Stein | Jeane Wong
ONE PR Studio (for Kabam)
510-893-3271
annemarie(at)oneprstudio(dot)com | jeane(at)oneprstudio(dot)com
###