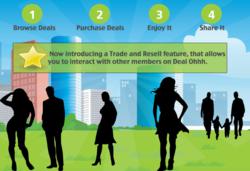 I am sure that Deal Ohhh will bring immense convenience to my life. This helpful website will be of great assistance as it allows me to trade any deals and coupons I may unfortunately not be able to use back into the community.
Tampa, Florida (PRWEB) December 06, 2011
Deal Ohhh!!! is a new start up company entering the daily deal business. This exciting Tampa Bay company endeavours to alert online users to fantastic daily deals and savings on a range of extraordinary activities. It is a resourceful and free to join website that will enable online users to take full advantage of the money saving coupons that will bring vast entertainment to their lives. Currently the website is accepting beta registration for members within the Tampa Bay Florida area. Although by 2013, Deal Ohhh strives to be fully launched across the United States.
This convenient to use website has established some groundbreaking features. Deal Ohhh will provide a useful service where consumers have the ability to interact with other like minded consumers via a social network. This enables online customers to share and trade daily deals amongst other members which will ultimately guarantee maximum customer satisfaction. We are in a digital age where more and more people are connecting and buying online and so Deal Ohhh will be incorporating both social networking with money saving business. Such a feature will be bringing great structure to the everyday life of an individual. Customers will never feel abandoned as they have the helpful opportunity to trade deals back into the community.
The Brains Behind Deal Ohhh!!!
A key and crucial member of the business team is Jeff Henry, President of Deal Ohhh. Mr Henry is a pioneer in the deployment of innovative online communication. Jeff Henry's expertise and entrepreneurial skills have allowed him to raise over $25,000 in funding in order to bring this brilliant website to enthusiastic online customers. Jeff Henry has made this dream possible by having a hardworking team behind him who continue to draw in attention for the business.
Deal Ohhh prides itself with extensive industry knowledge and contacts. The nature of the business allows the company to strike up valuable relationships with corporations within the United States. These permanent and loyal relationships established between Deal Ohhh and neighbouring businesses are paramount in providing consumers with current and appealing offers. Although this is very much a new venture for Deal Ohhh, confidence and enthusiasm will drive this project and make it successful.
What's Next?
The future is limitless for Deal Ohhh. The online community can continuously grow as exceptional deals each day are accessible to a growing amount of clients. Once Deal Ohhh has capitalized on the market within Tampa Bay, the company intends to expand to other cities in 2012. Deal Ohhh has also huge desires to develop this exciting prospect to Android phones and iPhone applications by 2013. These apps will ultimately drive more business to Deal Ohhh on a global scale in the future.
###