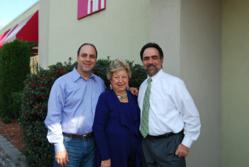 (PRWEB) December 07, 2011
Hallak Cleaners wins the American Dry Cleaner 2011 Grand Prize for "Best Plant Design" for their facility based in Northern New Jersey.
The company deployed a newly-designed garment tracking system. This proprietary software was designed and written by John-Claude Hallak and uses nearly three-dozen barcode scanning devices distributed throughout the facility. This new system enables the production manager, as well as anyone in customer service, to instantly identify the location and status of any garment, streamlining the process and enhancing production and customer service.
The revamped facility design also includes a great deal of redundancy in the plant infrastructure to help ensure a smooth and uninterrupted workflow. In addition, the very latest technology was introduced to the operation including the revolutionary Metal Progetti garment handling and sorting system from Italy. This computerized system prevents human errors during the assembly of customers' items while also minimizing the handling of finished garments.
Through computer aided design (CAD) planning software, Vice President Joe Hallak Jr. rearranged the entire production floor. "We had to start from scratch – every piece of equipment was moved," reports Joe. "Incredibly, during the six-month project, this complete metamorphosis was accomplished without ever shutting down production."
During the facility's restructuring, the company ensured uninterrupted service to its customers in Manhattan, Bergen County, Westchester and Greenwich.
According to Vice President John-Claude Hallak, "We are thrilled to get top honors in the 2011 American Dry Cleaner 50th anniversary competition. We will continue to focus on innovation, quality, and the customer."
Hallak Cleaners has been entrusted with Manhattan's finest wardrobes for nearly fifty years. Over the years, the company has received numerous awards for its environmental stewardship and quality fabric care. Hallak was the first Green Earth Cleaner in Manhattan. Although primarily considered a couture cleaner, Hallak also provides expert care for fine table & bed linins, custom home interiors and designer handbag cleaning. Please visit http://www.hallakcleaners.com for more information.
###