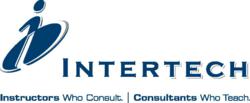 The entire team who delivers our mobile training have delivered phenomenal results.
Saint Paul, MN (PRWEB) December 07, 2011
Intertech (http://www.Intertech.com) has announced record 2011 attendance for its Complete iPhone training and Complete Android training courses. Courses are offered live throughout North America using Intertech's online training infrastructure. In addition to record attendance in the mobile courses, the courses earned world-class customer satisfaction ratings.
"The entire team who delivers our mobile training have delivered phenomenal results. Also, our infrastructure team has created online training environment that delivers a top experience for remote students attending our courses live," stated Dan McCabe, Partner and Director of Intertech's training sales. "The result is a record training sales year. It wouldn't be possible without our phenomenal customers and top notch team. I thank them both."
Intertech's Android Training course covers the Android architecture and API. The course focuses on enterprise, business class solutions that require high performance and intuitive user interface. In addition, the course covers the server side.
Intertech's iPhone Training course is four days in length. The course covers topics ranging from Objective-C syntax and constructs to iPhone application architecture to debugging. The course finishes with students building a front-to-back application.
About Intertech
Founded in 1991 by local entrepreneur Tom Salonek, Intertech, Inc. has grown from a one-person shop to the largest combined software developer training company and research-supported consulting firm in Minnesota. Intertech designs and develops software solutions that power Fortune 500 businesses along with teaching these and other organizations including mid-sized companies and state government.
Intertech works with NASA, Wells Fargo, Lockheed Martin, Microsoft, Intel, and other major companies around the United States helping them learn and use technology. Intertech is a Microsoft Gold Partner, a Microsoft Inner Circle member, a seven time winner of the Best Places to Work in Minnesota award, a finalist in the Wall Street Journal's Winning Workplaces award, a multi-year winner of the Inc. 500 and the Inc. 5000 awards for company growth, a winner of the Forbes ASAP growth award, and a winner of the Minnesota Fast 50 growth award. Intertech has been featured in Inc., Forbes, Upsize magazine, the Star Tribune, the Business Journal, the Pioneer Press, the Hudson Star-Observer, Minnesota Business, and Twin Cities Business Monthly.
# # #