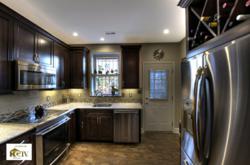 "Hands down favorite!"
Reston, VA (PRWEB) December 08, 2011
"Hands down my favorite! This is a hip kitchen – beautiful cabinetry and gorgeous, gorgeous countertops, and the floor, you have to touch it!" This was how HGTV design expert Monica Pederson described a kitchen renovated by Synergy Design & Construction during a recent episode of HGTV's "Bang For Your Buck."
The kitchen competed against two other row house renovations in Washington, D.C. While in the end it didn't nab the top spot, their kitchen came in at a close number two and was clearly the designer's first choice. "I would much rather have this kitchen, featuring a smaller space surrounded by beautiful things," said Pederson.
Synergy's kitchen is the 3rd one reviewed on the show, featuring faux-wood, heated ceramic tile and a gorgeous glass backsplash. These showpieces helped deem it a great investment choice, with an estimated 92% return on the homeowners' investment.
Said Mina Fies, Synergy D&C CEO and founder, "It was an honor for our project to be spotlighted on national television, and demonstrates the high level of quality work our company provides."
About Synergy Design & Construction, Inc.
Synergy D&C is an award-winning woman-owned, Class A General Contractor based in Reston, Virginia whose mission is to provide great design and construction using their proprietary Renovation Roadmap™. The company helps clients not only understand the design, but plan for the exact costs, timelines, and schedules, which eliminates unexpected bills and frustration. Synergy D&C launched on September 19, 2008 as a design and remodeling business and has represented construction costs valued at over $4 million. More information can be found at http://www.SynergyDandC.com.
###