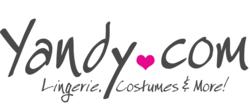 Yandy carries Santa hats of every persuasion for every type of holiday occasion.
Phoenix, AZ (PRWEB) December 07, 2011
Christmas comes but once a year and this 2011 season, Yandy.com, online retailer of lingerie and costumes, is outfitting shoppers from head to toe in sexy holiday garb. With hundreds of sexy Santa costumes, holiday lingerie and Christmas costume accessories available, even the Scroogiest of Scrooges can get in to the holiday spirit with a little help from Yandy.
While many find donning those barely-there, sexy Santa outfits to be a bit problematic when it comes to below freezing temperatures, getting in the holiday spirit can be as easy as sporting a festive Christmas accessory, like a new Santa hat. The iconic image of the modern day Santa, which made its debut in 1862 when Harper's Weekly contracted famed cartoonist, Thomas Nast, to immortalize St. Nicholas as the round-bellied, rosey-cheeked, plump spirit of Christmas, would not be complete without the cherry on top of the preverbal Christmas pudding sundae; the fur-trimmed, floppy red hat. Santa Claus' hat is synonymous with the holiday season and it is the easiest way to show a little Christmas spirit.
Yandy carries Santa hats of every persuasion for every type of holiday occasion. The extra long, soft red velvet, deluxe Santa hat with plush trim and pom pom detail is a fun twist on the traditional hat. For those Christmas purists, Yandy also carries several customary Santa hats in an array of fabrics. Yandy even offers a light-up, cowgirl-style Santa hat, complete with faux fur trim. For those that can not decide if they are naughty or nice this year, there is even a Santa hat that lets them change their mind with the reversible, naughty/nice Santa hat.
Yandy also carries several other Christmas accessories like striped elf stockings, Santa gloves, faux fur boot toppers and even a plush reindeer hood.
Yandy offers fast, same-day shipping, complimentary shipping on orders over $70 and a free panty with every order to make shopping simple and affordable this Christmas season.
About Yandy.com
E-commerce is on the rise and Yandy.com is one of the largest online retailers of lingerie, sexy Halloween costumes, sleepwear, sexy robes and clothing on the web. Founded in 2003, Yandy boasts more than 6,500 products always in stock at easily affordable prices. Yandy ensures that every costumer will receive a safe, secure and private online shopping experience and is backed by COMODO online security and Google Checkout. Yandy is dedicated to customer service and only sells what is in stock which allows for quick, same day shipping. Offering the highest quality products at the most affordable prices in the market, Yandy has become a leader in ecommerce. Yandy works closely with all of the manufacturers they distribute for and hand select all of the items on the Web site to ensure customers have the largest and most diverse collection to choose from. In addition, the customer service team at Yandy is unrivaled. With attentive and helpful operators, should a question or problem arise, the customer service team at Yandy is always willing and able to assist. At Yandy, every customer can Be Sexy.
###