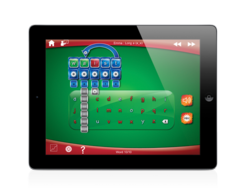 the academic results that you will see in your student or child will be amazing.
Edmonton, AB Canada (PRWEB) December 07, 2011
Pyxwise Software is pleased to announce that Simplex Spelling Phonics 1 made its debut on the App Store just days ago. It has already won an educational award, and it has been featured by Apple as "New & Noteworthy" in multiple countries. Apps For Homeschooling has awarded its coveted "Golden App Award" to Simplex Spelling Phonics 1. Jennifer Bogart states, "An app that has received a Golden App Award has achieved a high standard of excellence in developing educationally sound, professionally designed apps of true use to homeschooling families."
Simplex Spelling Phonics 1 teaches a full year of spelling curriculum and features over 450 high frequency spelling words to help build literacy. It provides 42 instructional lessons in phonics and spelling rules. Each lesson builds upon the skills learned in previous lessons, and students piece their spelling words together in a fun and interactive way. Simplex Spelling Phonics 1 uses Pyxwise's unique "reverse phonics" approach that acts like a personal spelling coach and guarantees success on every spelling word.
Spelling patterns and a wealth of spelling knowledge are contained within a beautifully simplistic interface. The powerful hint system phonetically sounds out each word while letting the student see all of the possible ways that a word can be spelled phonetically. Each word can be pieced together from its smallest or simplex sounds, and spelling hints and rules are provided to students in context and only as they are needed. Children can easily pick up and use Simplex Spelling as the introductory spelling list contains spoken instructions that gently guide the child through the app's entire feature set.
Many studies have shown that phonics is a more effective means of teaching spelling and reading than using flash cards and the whole word approach. A Scottish study on phonics followed students for 7 years and showed that students who learned their literacy skills with a full synthetic phonics approach were on average 3.5 years ahead of the rest of the population in their word reading skills. Hence, in recent years the UK government has changed their country's entire educational system over to a full synthetic phonics approach.
Simplex Spelling takes phonics education to a new level by combining effective phonics lessons with Pyxwise's unique reverse phonics approach. This comprehensive phonics program is combined with contextually relevant spelling rules and reminders to teach students "How to Spell" English words. Studies have shown that not all good readers are good spellers, but good spellers invariably make good readers. Pyxwise is devoted to making high quality educational applications. "We are honored to be making such a positive impact in the lives of so many children that are struggling to read and spell English words," offered Dr. Lisa Welburn.
Simplex Spelling Phonics 1 follows the original Simplex Spelling HD which is an award winning spelling application that has been critically acclaimed by educators, homeschoolers, parents and the media. Andrea Gardner from Applicable2U stated "Applicable2U has explored a number of spelling applications, and this is the best one yet." Andrea has been an elementary and middle school teacher for many years with very impressive credentials that include a focus on integrating technology into classrooms. Andrea went on to say the following about Simplex Spelling HD "the academic results that you will see in your student or child will be amazing."
Educational institutions have been purchasing hundreds of copies of Simplex Spelling HD for use in the classroom, and it has been getting great results in helping kids with special needs. Simplex Spelling HD has also been a popular choice with students that are learning English as a second language.
Simplex Spelling Phonics 1 builds upon all of the great features from Simplex Spelling HD with 42 new instructional lessons, additional spelling hints and tips, and choices for US, UK, and Canadian spelling. More information is available on the Simplex Spelling Phonics 1 product website.
Simplex Spelling Phonics 1 is available for the low introductory price of $0.99 (regularly $4.99). Available worldwide exclusively on the App Store in the Education category by searching for 'Simplex Spelling Phonics 1'. Review copies are available upon request.
Pyxwise Software Inc. is an award winning independent developer of family friendly games and educational software. It was co-founded by Craig Welburn B.A.Sc, B.Sc. and Lisa Welburn Ph.D. in 2011. The Pyxwise series of applications can be found on the App Store worldwide by searching for 'Pyxwise Software Inc.'. Copyright (C) 2011 Pyxwise Software Inc. All Rights Reserved. Apple, iPad, iPhone and iPod touch are registered trademarks of Apple Inc., registered in the U.S. and other countries. App Store is a service mark of Apple Inc.
###