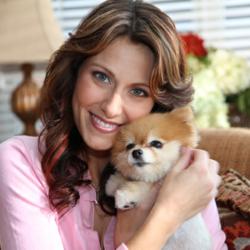 Pompano Beach, FL (PRWEB) December 09, 2011
1-800-PetMeds®, America's Largest Pet Pharmacy featured an adorable Pomeranian as their spokes-pooch in their newest commercial. The commercial, which can be seen nationwide, features flea & tick preventatives, heartworm preventatives, prescription and non-prescription medications, and a cutie-pie, Pomeranian named Bella. Bella was the grand-prize winner of the 1-800-PetMeds® 2011 Cutest Pet Contest that ran in August 2011 and was awarded lead role in the latest PetMeds® commercial.
The Cutest Pet Contest hosted by PetMeds® receives thousands of contestants each year, and the 2011 contest was no exception. The contest ran on the PetMeds® Facebook page and each contestant received votes from their family, friends and peers. This year, Bella was chosen as the cutest pet and has become a huge sensation with pet lovers everywhere, landing PetMeds® on VH1's Best Week Ever on November 7th.
Dan Hopper, the writer of the PetMeds® Best Week Ever article, showers readers with his comedic response to the commercial and suggests "You Can't Handle this Dog" due to Bella's adorable appearance. In fact, ever since PetMeds aired their commercial, they have been answering countless questions daily about what breed of dog Bella the Pomeranian is from customers just as smitten as Dan Hopper.
But wait it gets better! Not only is Bella too cute for words, she is also the Pombassador for Southern California Pomeranian Rescue. Deedee Townsend, Bella's owner, fundraises for the Southern California Pomeranian Rescue by making fleece blankets for pets and their owners. As grand prize winner, Bella and Deedee also won $1,000 in cash which they donated to their local animal rescue.
You can also see Bella's route to stardom through PetMeds blog site, where they show us a behind the scenes glance of their commercial.
About PetMeds®
Founded in 1996, Petmeds.com is America's Largest Pet Pharmacy and Vet-VIPPS accredited, delivering prescription and non-prescription medications such as Frontline Plus and Heartgard Plus for less, direct to the consumer through its 1-800-PetMeds toll free number and on the Internet through its website at http://www.1800petmeds.com.
###