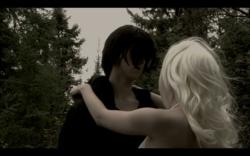 "This was just a good choice for me. I like being home grown and I like working with my friends. They're really amazing people." – Rhiannon Paille
Winnipeg, MB. (PRWEB) December 08, 2011
If you've bought a book off of amazon recently you've likely watched a book trailer on youtube. Book trailers have become the media marketing tool of choice for authors. Anyone that's anyone, especially YA authors, is doing it. Maggie Stiefvater, Cassandra Clare, Julie Kagawa, Lauren Oliver, Beth Revis, and Becca Fitzpatrick are just a few of the authors that have book trailers out right now.
But what goes into the making of a book trailer? For some Indie Authors like Sammie Spencer, it's programs like Windows Movie Maker. Others like Cory Putman Oakes hired a video designer. Maggie Stiefvater created stop motion trailers, and she wrote and recorded the music for her trailer. Cassandra Clare worked with VLC Productions and Becca Fitzpatrick worked with Circle of Seven Productions.
Rhiannon Paille did things differently. Her book trailer was created by a talented group of close friends. Between the nine people on the project, (Samantha Wiebe, Ayla Baldaro, Angelica Northam, Ted Sali, TJ Zoske, TJ Young, Ray Gonzales, Chris MacDonald, and Rhiannon Paille) they had a writer/producer, director, film editor, costumer, actors, stunt technician, photographer, and composer. The entire trailer was shot on location in Lake of the Woods, Ontario, Canada.
"This was just a good choice for me. I like being home grown and I like working with my friends. They're really amazing people." – Rhiannon Paille
View the trailer here:http://youtu.be/u6JoH30fHeI
Flame of Surrender, the first in The Ferryman and the Flame Series is available now through these retailers:
Amazon
Barnes and Noble
Indigo
###