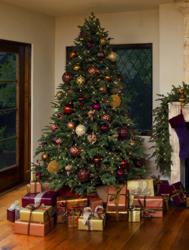 Christmas simply isn't the same without a Christmas tree. Our Saturday shipping offer ensures that customers can put up their tree in time for Christmas.
Redwood City, CA (PRWEB) December 10, 2011
With Christmas fast approaching, Balsam Hill ™, online purveyor of luxury artificial Christmas trees, comes to the rescue of customers rushing to get their Christmas trees ready via its Saturday shipping promo. Balsam Hill ™ customers choosing FedEx Two-Day Air or Standard Overnight services can avail of this special service until December 24.
"Even though Christmas Eve is only a couple of weeks away, many have yet to purchase and decorate the centerpiece of the holiday season – the Christmas tree. One of the benefits of our realistic artificial Christmas trees is convenience. This holiday season, we are shipping products on Saturdays so customers can catch up with their decorating," Thomas Harman, CEO and founder of Balsam Hill ™, shares.
Customers can choose from the vast selection of trees and decor offered. An excellent choice is the BH Balsam Fir, one of the company's best-sellers. This premium tree is praised for its natural beauty, earning it the title of "Best Overall" in the Good Housekeeping Magazine article on artificial Christmas trees (December 2007). Another best-seller is the Silverado Slim, a slim Christmas tree that captures the elegance and magnificence of the Silverado Trail with its luxurious look.
These trees and many other designs are on sale this holiday season. One of the new tree designs in the sale is the Mendocino Pine Tree, which features vibrant green pine needles and real-looking baby cones. In addition, those hoping to bring a winter wonderland into their homes can select one of the Balsam Hill ™ white Christmas trees.
Mr. Harman encourages customers to place their orders soon, as inventory is running out fast. "Christmas simply isn't the same without a Christmas tree. Our Saturday shipping offer and efficient services ensures that our customers can put up their favorite tree in time for Christmas."
Balsam Hill ™ also offers LED Christmas trees, which give customers an energy-saving edge, aside from their aesthetic appeal and durability. Other holiday decor available are wreaths, garlands, and tree ornaments.
For more information, please visit http://www.balsamhill.com.
About Balsam Hill ™
The mission of Balsam Hill is to create the highest quality artificial Christmas trees, wreaths, and garlands ever produced. The Balsam Hill team is passionate about developing realistic, premium pre lit Christmas trees for a more festive -- and convenient -- holiday season. Based in Redwood City, California, Balsam Hill designs all of its own trees, which are available exclusively online through http://www.balsamhill.com.
###