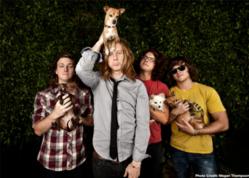 Best Friends Acclaimed Ambassadors are involved in many aspects of the organization's outreach programs, as well as visiting and volunteering at our sanctuary for homeless pets in southern Utah. They also help us promote timely issues through social media
Los Angeles, CA (PRWEB) December 12, 2011
Best Friends Animal Society, one of America's best known animal welfare organizations, announces its new Acclaimed Ambassadors program featuring celebrities amping up their star power on behalf of homeless pets everywhere.
The program, in which celebrities from all walks of life lend their name to Best Friends' national work on behalf of homeless pets, is in full swing with the introduction of its own web site and ambassadors will be at work on many projects in 2012.
"From the time we started working in Los Angeles in the early 1990s, we have had the support of many people in the entertainment industry," said Silva Battista, a co-founder of Best Friends Animal Society. "In our new Acclaimed Ambassadors program we have a formal platform through which our celebrity friends can show their support for our mission.
"Best Friends Acclaimed Ambassadors are involved in many aspects of the organization's outreach programs, as well as visiting and volunteering at our sanctuary for homeless pets in southern Utah. They also help us promote timely issues through social media sites."
Typical of the celebrities' activities is is the recently released "I Believe" television public service announcement (PSA) starring actors Lisa Edelstein and James Avery and singer/musicians Travis Clark and Emmylou Harris, all of whom speak out on behalf of the animals. The PSA recently made its debut in selected markets and will continue to be circulated during the holiday season.
Another example of a celebrity helping Best Friends spread a message of animal kindness was a recent article in Rolling Stone Magazine about singer/songwriter Willie Nelson's open letter to the residents of Ohio. Nelson wrote a letter to the Ohio legislature to show support for Ohio House Bill 14, which would reverse a law that declares certain dog breeds inherently vicious while strengthening associated laws targeting irresponsible dog owners.
In the past year, Travis Clark of the "We the Kings" rock band appeared in a humorous video PSA as part of the organization's "Invisible Dogs" campaign, designed to get people thinking about the homeless dogs in local shelters waiting to be seen and adopted.
Actress Rachelle Lefevre has served as spokesperson for Best Friends' puppy mill initiatives including this PSA. New York-based actor Kevin Conway, who manages his own community cat colony, did a PSA on behalf the organization's efforts to help free-roaming cats.
Following is the complete list of Best Friends Animal Society Acclaimed Ambassadors:
Alyssa Milano
Amy Smart
Anna Maria Horsford
Autumn Reeser
Bill Maher
Bruce Weber
Carrie Ann Inaba
Charlize Theron
Cloris Leachman
Denise Richards
Dr. Jane Goodall
Ellen DeGeneres and Portia de Rossi
Emmanuelle Vaugier
Emmylou Harris
Eric Stonestreet
Eric Roberts
Gabrielle Anwar
Hawk Koch
Ian Somerhalder
James Avery
Jason Gray Stanford
Jillian Michaels
Joanna Krupa
Julie Marie Berman
Katherine Heigl
Kelly Wearstler
Kevin Conway
Kristin Bauer
Laura Dern
Linda Hunt
Lisa Edelstein
Lu Parker
Maggie Q
Maggie Lawson
Neko Case
Nils and Amy Lofgren
Patrick Fabian
Rachelle Lefevre
Richard Donner and Lauren Shuler Donner
Timothy Omundson
Travis Clark and We The Kings
Tricia Helfer
Valery Ortiz
Willie Nelson
Yeardley Smith
To find out more about Best Friends Animal Society's Acclaimed Ambassador program visit http://acclaimedambassadors.bestfriends.org/.
About Best Friends Animal Society®:
Best Friends Animal Society is a nonprofit organization building no-kill programs and partnerships that will bring about a day when there are No More Homeless Pets®. The society's leading initiatives in animal care and community programs are coordinated from its Kanab, Utah, headquarters, the country's largest no-kill sanctuary. This work is made possible by the personal and financial support of a grassroots network of supporters and community partners across the nation.
Become a fan of Best Friends Animal Society on Facebook: http://www.facebook.com/bestfriendsanimalsociety
Follow Best Friends on Twitter: http://twitter.com/BFAS
###