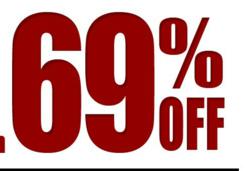 Hong Kong (PRWEB) December 12, 2011
As the world counts down to Christmas, DinoDirect wants their loyal shoppers to buy their desired Christmas presents from the online store at 69% discount off their current prices.
There is a lot of planning to do around the Christmas season; from decorating homes to create a festive atmosphere to making arrangements for special festive parties including the currently popular themed parties. DinoDirect understands that consumers are swamped with decisions to make and the online retailer would like to lift some of the burden from consumers; by allowing consumers to buy all the Christmas themed products, accessories and gifts they need at discounted prices.
The store's manager said, "Christmas is coming. Are you looking for more desirable Christmas gifts and Christmas presents to delight your friends and your family? There are a brilliant range of Great ideas for Christmas gifts and Christmas presents in stock, find unique and personalized top Christmas gifts and Christmas presents at DinoDirect."
If the special discount is not a treat in itself, consumers will be spoilt for choice when searching browsing through the online store's catalog of products for their desired items. Amongst the products which are like to attract consumers during this festive season are Christmas Costumes and Celebrity Dresses. This period is referred to as the festive season, because people use this opportunity to host parties. Themed parties are always a favorite during this season maybe because people generally love to dress up in costumes and unwind and simply because people love to follow Christmas traditions. DinoDirect's store manager explained further.The store's manager said, "Whether you need an elf, angel, or Santa costume, these fun adult Christmas costumes will put you in the Holiday spirit." The store also stocks an impressive collection of celebrity inspired dresses which every woman will want to buy at the special discount price.
Christmas would not be Christmas if memories are not created with the various festivities that friends that family members share; DinoDirect wants to give shoppers the opportunity to invest in any of their digital camcorder brands, in order to capture the special memories they create during the season.
The tradition of sharing photos and videos over social media networks is a relatively new one, which has come along with the technologically advanced electronic products available in the market. That said, shoppers should definitely invest in one of the Android Tablet devices stocked by the online retailer.
DinoDirect has truly set the pace for the festive season, by ensuring that consumers can buy all the products they desire at special discount prices during throughout this period. The store is also running several Christmas promotions and sales on select products from the store.
# # #