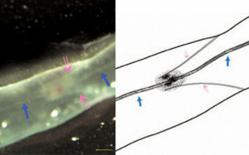 This amazing photo shows a stereomicroscopic image of acupuncture meridians
Brooklyn, NY (PRWEB) December 20, 2011
If you had walked into Garden Acupuncture's office last week and asked "What are acupuncture points?", you would have gotten an answer like this: "Acupuncture points are specific places on the body that lie on a line of energy (called a meridian). There are hundreds of these points on the body and they are the best places to access the body's own healing energy." Now acupuncturists all over the world can add a more scientific explanation.
The new ground breaking research done by Dr. Morry Silberstein of the Curtin University of Technology, discovered the physical structure of meridians and acupuncture points. Stereomicroscopic images show the meridians which are extremely thin nerves called C fibres and acupuncture points are the points where the C fibres branch. C fibres trasmit low-grade sensory information. Insertion of acupuncture needles into these branches disrupts this circuit and numbs our sensitivity to pain.
This is why acupuncture is so effective at relieving pain and has been doing so for thousands of years.
Garden Acupuncture is located in Park Slope Brooklyn, next to the Food Co-Op
790A Union St (between 6/7th Ave)
GardenAcu.com
646.234.3643
Specializing in fertility medicine and pain resolution using acupuncture, Chinese herbal therapy and nutritional counseling.
# # #