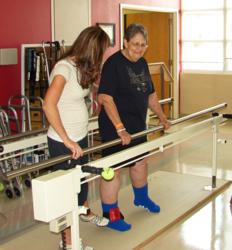 "The five star rating confirms our community's ongoing commitment to residents. Their goals become our priorities." Aimee Musial, Wynscape
Wheaton, IL (PRWEB) December 13, 2011
Wynscape Health and Rehabilitation, the skilled nursing facility at Wyndemere Senior Living Community in Wheaton, recently achieved a Five-Star Quality Rating from the Centers for Medicare & Medicaid Services (CMS). Of 22 skilled nursing facilities in the area certified to participate in Medicare and Medicaid, Wynscape is one of only four to receive the highest, five-star rating.
"This rating confirms our community's ongoing commitment to our residents--their goals become our priorities," said Aimee Musial, administrator for Wynscape. "We are very proud to give families peace of mind, knowing their loved ones are receiving quality care."
As part of the Wyndemere Senior Living Community, residents enjoy immediate access to the excellent care available at Wynscape. Last winter when Wyndemere resident Isabelle Bartell fell and broke her hip, she received two and half months of intensive therapy at Wynscape, enabling her to return to her activities with full function. "I've never had better therapy," Bartell said. "The staff was very concerned and my therapist was attentive and knowledgeable."
Wynscape's Five-Star rating means the facility achieved excellence in the areas of Health Inspections, Staffing and Quality Measures. The health inspection includes a look at 180 different aspects of care in a nursing home and onsite visits by a trained team of objective surveyors who check on the quality of care, inspect medical records, and talk with residents. CMS, an independent organization, created the Five-Star Quality Rating System to help consumers, their families, and caregivers compare nursing homes more easily.
Please visit http://www.medicare.gov for more information on the CMS quality rating system.
Wynscape is part of the Wyndemere Senior Living Community, located in the heart of Wheaton, Ill. at 200 Wyndemere Circle. Wyndemere is owned and managed by Life Care Services. For more information about retirement living or skilled nursing care at the Wyndemere Community, visit our webpage at http://www.WyndemereLCS.com or call Wyndemere at (630) 690-8889.
###