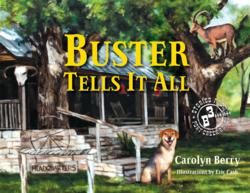 Get a headstart on 2012 with New Children's Books that Inspire, Motivate, and Educate.
Dallas, Texas (PRWEB) December 20, 2011
What better time than now to introduce young readers to new books that inspire, motivate, and educate. This holiday season Brown Books Publishing Group offers young readers the best gifts of all - books!
Get a head start on 2012 with "Buster Tells It All: Stories From Pony Creek Ranch," by Carolyn Berry of Dallas, TX. Young readers are invited to explore the magical world of Pony Creek Ranch - the real-life animal reserve located in Paluxy, TX for injured, orphaned, or endangered animals and wildlife from around the world. 'Buster,' is the head dog of the ranch, and introduces young readers to new and exciting animal friends like the Nubian ibex, Dama gazelle, and blackbuck antelope; while white-tailed deer, zebras, and ostriches to name a few frolic about on the thousand-acre ranch!
"Buster Tells It All," is a wonderful story of the love, friendship, and support that exist between animals, and people. Young readers will learn the importance of kindness, and compassion towards others. *A portion of all proceeds will be donated to Teach for America and the SPCA.
**Note the "Fast Facts" at the back of the book...
Meet "Cinco the Clinic Cat," by Carol Brickell of Dallas, TX. A bilingual read, Brickell met this real-life kitty while working at a medical clinic in Honduras. Their meeting inspired this wonderful story about a cat who needs a home and a little girl who wishes for a friend. "Cinco the Clinic Cat," is a story about friendship, set in a medical clinic in Latin America with vivid watercolor illustrations tha capture the spirit of the culture.
For the budding young chef, "Jackson & Julie: the Twelve-Month Chefs - A Holiday Cookbook for Families and Children," by Christine Perrenot of Dallas, TX, introduces young cooks to the kitchen. She provides young readers with the platform to get them started and the tools to ensure their success. ...Refreshing and fun, what better excuse to bring family and friends together to start creating precious memories.
Award-winning book, "I'll Follow the Moon," by Stephanie Lisa Tara of northern California, explores the tender journey of a newborn sea turtle in search of her mother. Through gentle verse and enchanting illustrations, Tara traces a baby turtle as she hatches from a nest underneath the sandy beach and digs her way up into the soft light. Instinctively, she follows the flickering moonlight and crawls home to the sea. This sweet book will make for perfect bedtime reading.
"Kendra Kandlestar and the Crack in Kazah," by Lee Edward Fodi of Canada, is the fourth in his Kendra Kandlestar book series. Step inside and join Kendra on yet another magical world of fantasy and adventure. *For young readers 8 and up...
To explore other titles visit: http://www.brownbooks.com
Books are available at Amazon.com and bookstores everywhere.
# # #