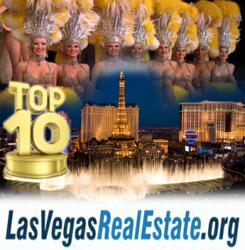 Las Vegas Real Estate Prices Driving Cities Attention to Top 10 Places to Live in 2012
Las Vegas, NV (PRWEB) December 12, 2011
Las Vegas homes and condos have been getting alot of attention lately due to the affordability as LasVegasRealEstate.org reports the medium price range on a 3-bedroom home hovers around $103K. World-wide investors and buyers researching for overall lifestyle and value have been targeting Las Vegas. Once in Vegas these buyers are discovering a diverse city that tops everything from technology, dining, shopping and world-class entertainment.
Ashley McCormick of Realty One, Nevada's number one real estate company, say's travelers arriving to Las Vegas turning on their iPhones and laptops to make contact are first impressed with the connectivity Vegas has to offer. iBtimes recently sited Las Vegas in the Top 10 Best cities for 4G access. The term "Silicone Las Vegas" has been emerging in certain spheres beyond the futuristic look of Las Vegas high rise condos as internet entrepreneurs and companies such as Zappos.com are making Vegas home.
McCormick says that she is never surprised to hear newcomers discussing about a great restaurant they discovered or a new dish. TripAdvisor.com has Las Vegas rated in Top 10 cities in America for "Food & Wine Destinations." Las Vegas high-end casinos feature restaurants from some of the world's most celebrated celebrity-chefs to affordable all-u-can-eat buffets that start at under $10 with an international selection of foods.
CNBC recently named Las Vegas in The Top 10 Most Diverse Cities in America. Vegas is known for it's strong artistic culture and there are many festivals and celebrations with performers merging from all over the world. McCormick says that its this diversity that makes everyone feel welcome and accepted throughout a city that allows individuals to experience a multitude of cross-cultural events.
Las Vegas homes for sale rank #1 for price-to-rent ratio based on reports from Trulia research and remains strong going into 2012. 50% of homes sold are all-cash buyer with 10% of all closings being foreign buyers and investors. McCormick has recently acquired a toll free number to meet the demands of out of state clients at 1-888-920-2292 as Vegas gains is global popularity. Over 15,000+ Las Vegas homes and condos can be searched online at http://www.LasVegasRealEstate.org.
# # #