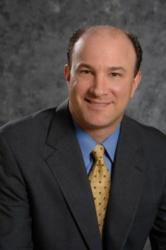 To be recognized by my peers is truly an honor because I respect their work and their opinions, says Dr. Richlin
STAMFORD, CT (PRWEB) December 14, 2011
Dr. Spencer Richlin, Surgical Director and Fertility Specialist with Reproductive Medicine Associates of Connecticut (RMACT), has been honored by his peers by being rated one of Castle Connolly's "2012 Top Docs." The list of Fairfield County's outstanding doctors will appear in the January/February issues of Fairfield Living, Greenwich, New Canaan-Darien, Westport and Stamford magazines, all of which are published by Mofley Media.
"To be recognized by my peers is truly an honor because I respect their work and their opinions," says Dr. Richlin, who is the Division Chief of Reproductive Endocrinology and Fertility at Norwalk Hospital along with his responsibilities with RMACT. "But the most rewarding part of my work is partnering with patients to help them build the families of their dreams."
Mofley Media's list is compiled by the renowned healthcare research firm Castle Connelly Medical Ltd., which conducts a rigorous, peer-reviewed assessment of local doctors.
Dr. Richlin is board certified in both Reproductive Endocrinology and Obstetrics and Gynecology. He is a member of the American College of Obstetrics and Gynecology and of the American Society for Reproductive Medicine. He recently co-wrote with his RMACT partner, Dr. Mark Leondires, the fertility chapters in a new textbook titled Avoiding Common Obstetrics and Gynecology Errors, published by Lippincott, Williams & Wilkins.
Dr. Richlin received his undergraduate degree in psychology from the University of California at Berkeley, and his medical degree from the University of Southern California's School of Medicine. He completed two internships, one in Emergency Medicine and one in Obstetrics and Gynecology. Dr. Richlin served his residency at Stamford Hospital in Stamford Connecticut from 1995-1999, where he was named Berlex Best Teaching Resident. He then completed his subspecialty fellowship in reproductive endocrinology and infertility at Emory University's School of Medicine in Atlanta, Georgia.
Within the reproductive endocrinology field, Dr. Richlin's main interests are reproductive surgery, in vitro fertilization (IVF) and a cutting edge technology called Comprehensive Chromosome Screening (CCS), which safely evaluates biopsied embryos prior to transfer. Dr. Richlin takes a personal interest in his patients, and finds fertility preservation for cancer patients especially rewarding.
About RMACT
Reproductive Medicine Associates of Connecticut (RMACT) specializes in the treatment of infertility, and is one of 11 leading In Vitro Fertilization (IVF) centers nationwide chosen by In Vitro Sciences to participate in its Centers of Excellence program. With Connecticut fertility clinics and egg donation offices in Norwalk, Danbury and Stamford, and affiliate New York fertility clinics serving Westchester, Putnam and Dutchess counties, our team of Board-Certified Reproductive Endocrinologists offer a wide range of infertility treatments from ovulation induction and intrauterine insemination (IUI) to the most advanced assisted reproductive technologies including in-vitro fertilization (IVF), egg donation and its own cutting-edge procedure called Comprehensive Chromosomal Screening (CCS), a form of preimplantation genetic diagnosis (PGD). RMACT offers individualized infertility treatment plans in a patient-focused and supportive environment. Support services, such as, psychological counseling, acupuncture and yoga are also available through RMACT Integrated Fertility & Wellness Center, as well as infertility treatment financing.
The RMACT team of fertility doctors includes Drs. Mark P. Leondires, Spencer S. Richlin, Joshua M. Hurwitz and Cynthia M. Murdock. All physicians are members of the American Society for Reproductive Medicine (ASRM), the Society for Assisted Reproductive Technology (SART) and the Fairfield County and Connecticut Medical Societies. RMACT's IVF laboratory is accredited by the College of American Pathologists (CAP), and CLIA; other accreditations include the Accreditation Association for Ambulatory Health Care (AAAHC) and the American Institute for Ultrasound in Medicine (AIUM). For more information visit http://www.RMACT.com.
# # #