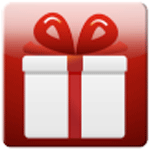 New Budget feature to help contain costs by tracking spending by person, group or event.
Portland, OR (PRWEB) December 15, 2011
mSeven Software is announcing the launch of mGifts 3.0, offering syncing, budgeting and additional ease-of-use features for iOS devices (iPhone, iPad and iPod touch). mGifts provides a fun and convenient way of keeping track of all of your gift giving opportunities so no one is forgotten when it comes time to celebrate Christmas, birthday and other special events. mGifts is powerful and yet made simple with features like:

View by person, store, event or gifts list with filters.
Specify each person in gift list with an optional custom photo.
Setup gift-giving events like Christmas, birthdays for a year round gift list.
Optional 4-digit pin code to keep out the curious.
Add a photo of the gift to make sure the right one is acquired.
Some of the new and improved features in the 3.0 release:

Keep all your devices (iPhone, iPad and iPod) in sync with iCloud (iOS 5 required).
Improved gift list sharing via SMS or email to enlist others to help in gift gathering.
Improved gift status view; idea, needed, purchased, wrapped or shipped to help track the entire gifting process.
Preloaded stores and icons to help fulfilling the gift list.
New Budget feature to help contain costs by tracking spending by person, group or event.
New icons and other ease-of-user features to keep gifting fun and simple.
mGifts for iOS is available via the iTunes App Store for the price of $2.99 during an introductory period after which the price will be $4.99. mGifts is a as a Universal app for iPhone, iPad and iPod Touch which means you buy it once and run it on all your devices belonging to your iTunes account.
About mSeven Software
Based in Portland, Oregon, mSeven Software has developed and supports mGifts and several other applications for the iOS, Android, Mac OS and Windows platforms. As a leader in the productivity category, mSeven Software operates on the principle that useful software is "made simple for everyday users."
For more information:
Contact: David Pfeiffer
Phone: 262-968-1940
Email: dave(at)msevensoftware(dot)com
Web: http://msevensoftware.com
Apple, iPhone, iPad, iPod are either registered trademarks or trademarks of Apple in the United States and/or other countries. mSecure, mGifts, mSevenSoftware are trademarks of mSeven Software LLC.
###