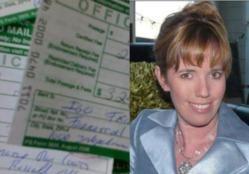 I want Donald Trump to ask Mayor Bloomberg why the NYC Taxi Commission gave a billion dollar contract to NISSAN when their parent company Renault does business with Iran.
Franklin, Tennessee (PRWEB) December 13, 2011
Sharyn says that members of the conservative community in Middle Tennessee that have jailed her three times after she exposed problems (case # gsc -3714) is still trying to get the local paper the Gannett owned Tennessean to report the story of discrimination and bad spending of taxpayer money. Sharyn Bovat was told that the paper was going to do a story last spring. Her goal is for the press to ask the DA Kim Helper why she continues to prosecute a first time misdemeanor for over 17 months.
Bovat has tried some "unique" ways to get attract the media so reaching out to Donald Trump is not unusual. In the last 17 months she's done a dozen press releases, standup comedy, spoken twice at the state capital at legislative hearings and blogged about her friendship with the editor of the Tennessean. Sharyn says "this whole situation is getting out of control; my blood pressure is 153 over 93 and the stress of these charges is affecting my health".
Frustrated that the Tennessee media ignores the discrimination she whistle blew about at NISSAN (internal statistics have shown that women in management declined from 20.9% to 10% in a 3 year time period). Sharyn Bovat has blogged that her story has been squashed due to issues about the president's pet project the electric car http://www.gannettmcnews.com.
Bovat has repeatedly said on her blogs "the DOE is wasting too much taxpayer money" and she followed up by filing a complaint with the DOE Inspector General Gregory Friedman.
In reference to the DOE loan she has filed a complaint with the DOE and sent a certified letter to the Inspector General Gregory Friedman. Bovat also sent certified letters to members of the committee questioning Solyndra including Rep. Fred Upton & Rep. Cliff Stearns, Bovat's web stats show that a Solyndra IP address looked at her blog 1142 times. The letter along with a video of her testimony at a state senate hearing can be viewed at http://www.nissanwhistleblower.com .
Last month Sharyn blogged about a contract NYC signed giving 1 billion dollar deal to NISSAN for taxi's built after 2013. Bovat says that NISSAN is directly connected to a company doing business in Iran: Via there alliance partner Renault & she would like Donald Trump to ask the candidates throughout 2012 about this.
The taxi being built for NYC has the platform of the NV200 is built on the modified Renault-Nissan B-Alliance platform. According to Wiki "As well as sharing a number of engines in the alliance and joint-development of zero-emissions technology, Nissan increased its presence in Europe by badging various Renault van models."
Bovat would like Mr. Trump to ask the candidates about information posted on Rushline about NISSAN's partner Renault experiencing tremendous growth from Iran. http://www.rushlane.com/renault-pulse-hatchback-for-indian-car-market-important-for-global-strategy-1223457.html Bovat says "although the profits from the Nissan taxi from the billion dollar NYC contract go to NISSAN's in Japan then the funds are redirected to Renault who not only is a strategic partner but the largest stockholder, France has a history of selling weapons and buying oil from Iran. France is the major holder In Renault I'm sure that Donald Trump will understand the issues are both economic and foreign policy related".
Bovat would also like Donald Trump to directly ask presidential candidates during the 2012 presidential election about the NYC taxi commission decision.
This is not the whistle blowers first time getting political. Late last year Bovat started a blog to get the attention of Ed Gillespie and Karl Rove who she calls the GOP elite http://www.gillespierove2012.com. Bovat a former political research worker wants her voice heard and is reaching out to many different people in her attempt to get attention to the discrimination she whistle blew about.
Bovat's viral attempt to get attention of Gannett leaders is working when doing a google or yahoo search using the names of the top news executives: Bob Dickey, Kate Marymont and Mark Silverman her blogs are usually on the 1st page.
Sharyn says she's been stressed because the problems in Tennessee are big. The state was ranked #1 in corruption according to the Daily Beast in 2010.
Bovat who has twice testified at legislative hearings says there's hope that the state will become more transparent saying "I've met a lot of hard working members of the Tennessee legislature and I have hope that change will happen in Tennessee..."
In reference to Sharyn's legal battle as of now the prosecution against her continues. Sharyn's blood pressure last night was 153/93 and she's tired of blogging about corruption. Sharyn says her goal in 2012 is for her to have a "normal" life.
Sharyn hopes this is her last press release on "this issue" but is anticipating another one soon. She got a letter from the IRS about her 2009 tax return. Bovat has reached out to Rep. Marsha Blackburn about this issue and then spoke to official at the IRS. In 2009 Bovat paid for the NISSAN executive's satellite dish, washer dryer and other relocation expenses with her credit card and NISSAN did reimburse her but the IRS now wants taxes paid on the reimbursement. The IRS representative told her to get NISSAN to issue an amended 1099 and as of now they have not. Sharyn says I refuse to pay almost $1,500 in taxes for someone else's stuff. Bovat has until January 12th & documented that she asked for the amended 1099 in 2010 saying "this is ridicules, then again her whole situation is ridicules". Sadly it continues.
###