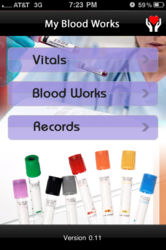 My own Doctor after watching me using and testing My BloodWorks said
"It's Awesome"
(PRWEB) December 20, 2011
Newly released medical app "My BloodWorks" is a friendly yet powerful tool toward tracking anybody's health thru blood tests and Vitals. With the ability to enter blood pressure and pulse multiple times a day that are date stamped and have their own graph, now it makes them easy to monitor between physician's visit. Blood test values screen by date means they can be compared side by side with previous blood tests. Have all medication at the touch of a button for the physician's visit. The appointment screen keeps all appointments in one place. Emergency phone numbers are stored on a page that can dial right from there. No need to look in contacts for important numbers. A screen for medical events to keep track of someone's medical history is also within "My BloodWorks" app.
All information within "My BloodWorks" is stored in the App only. The Developer nor any third party have access to "My BloodWorks" App. Always consult a Physician.
http://www.mybloodworksapp.com
# # #