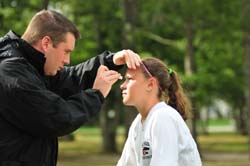 "The ATSNJ decided to do this survey as a means to evaluate and learn more about New Jersey School Districts' readiness to comply and identify issues with implementation of the New Jersey Concussion Law," said Eric Nussbaum, president ATSNJ
Wayne, NJ (PRWEB) December 14, 2011
While progress is being made toward compliance with the New Jersey Concussion Law, some school districts are lagging behind the timeline set by the law, according to survey of results from the Athletic Trainers' Society of New Jersey (ATSNJ) 2011 Concussion Policy Survey. The survey of 110 New Jersey High School athletic trainers suggests while most districts have a board approved policy, there are still some who do not have a policy.
The survey also finds that districts are having difficulty interpreting certain provisions in the law. Eighty-four percent of district policies do not define what a 'physician trained in concussion management' means, sixty percent do not define 'academic modifications' for a brain injured athlete, and fifty one percent do not define what 'asymptomatic' means when dealing with a brain injured student-athlete. All three of these terms are utilized in the concussion law without a definition or description.
ATSNJ Concussion Policy Key Findings:

Only 63% of team physicians are "trained in the management of concussions"
9% of respondents do not have a board approved concussion policy.
27% of schools adopted a generic policy.
84% of districts do not defined "trained in the management of concussions" in their concussion policy.
51% of districts do not define "asymptomatic" in their concussion policy.
60% of districts do not define specific academic accommodations in their concussion policy.
89% of school policies define "graduated return to play protocol"
100% of districts utilized athletic trainers as the gatekeeper for the concussion management process
In the fall of 2010, the ATSNJ completed a survey of New Jersey high schools regarding the incidence of concussion. A follow-up study is currently nearing completion for the fall 2011 season, and results comparing both seasons are expected to be released next month.
"The ATSNJ decided to do this survey as a means to evaluate and learn more about New Jersey School Districts' readiness to comply and identify issues with implementation of the New Jersey Concussion Law," said Eric Nussbaum, president ATSNJ. "It serves to affirm those who have already adopted a policy, stimulate those who continue to work to make their policy better, and encourage those districts who have not formally adopted a policy as dictated by state law."
ABOUT THE ATHLETIC TRAINERS' SOCIETY OF NEW JERSEY
ATSNJ, Inc. consists of licensed athletic trainers, physicians and other allied health care professionals whose goal is to promote quality healthcare for athletes in any setting. For more information on concussion education, management and policy as well as various other sport safety issues please visit: http://www.atsnj.org
###