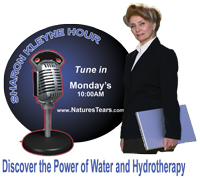 (PRWEB) December 14, 2011
On April 28, 2008, Sharon Kleyne, host of the Sharon Kleyne Hour Power of Water radio talk show, interviewed Scott Jens, DO Chairman of American Optometric Association's "InfantSee" program. The topic was eye care, eyesight preservation and dry eye prevention for children in a changing global environment. Sharon Kleyne noted that despite great medical advances, there are still 37 million blind people in the world. Most blindness begins in childhood and 75% is preventable.
The interview may be heard on World Talk Radio, Voice America, Green Talk Network, Apple iTunes, sponsored by Nature's Tears® EyeMist®
The InfantSee program, sponsored by the AOA and Johnson and Johnson, provides free vision and dry eye screenings to infants and also tracks global risk factors. Although screenings primarily focus on poor areas, their recommendations on childhood vision health apply to everyone.
Sharon Kleyne noted that the risk of dry eye and other eye problems in children and adults increases as the air gets dryer, both indoors and outdoors. The air in most delivery rooms also may be too dry.
According to Dr. Jens, one child in 20 is born with vision problems, with nearsightedness and amblyopia the most common. In amblyopis, the eyes don't communicate well with the brain. It's also called, inaccurately, "lazy eye syndrome." One child in 20,000 is born with retinoblastoma, a serious eye cancer. With retinoblastoma, the eye must be removed, a sad but life-saving procedure.
Dr. Jens recommends nutritious meals when pregnant, and avoiding alcohol and illegal drugs. These drastically raise the incidence of abnormal vision. Second-hand smoke may also affect a child's vision. Infants should be well nourished and kept in a clean environment.
Dr. Jens recommends vision checks at birth, six months and one year. For the first three months, when vision is still mostly unfocused, he suggests making sure there are objects within a foot of the baby, where they can see clearly.
Dr. Jens described another AOA eye care program, Healthy Eyes – Healthy People, that stresses health and nutrition. Vision, he states, is a learned behavior, like walking, and should be nurtured both physically and nutritionally. We also need to be taught to observe, and how to react appropriately to what we see. Learning is 90% visual. To learn, children should be well rested, have sufficient anti-oxidants in their diet and get plenty of vitamin A and zinc.
Sharon Kleyne mentioned that a former Sharon Kleyne Hour Power of Water guest, Marguerite McDonald, MD, recommends dark green leafy vegetables and omega-3 fatty acids for good eyesight.
According to Dr. Jens, children with abnormal eyesight do less well in school and have more behavioral problems. When vision is corrected early, academic and behavior problems usually correct themselves.
There is nothing more important to learning than eye care. School-age poor vision symptoms include covering one eye while reading, squinting, headaches, poor grades and social withdrawal. Computers are terrible for eyes and should be strictly limited by parents.
Nature's Tears® EyeMist® is well tolerated by infants and children. The product provides an all-natural, pH balanced water mist to soothe dry eyes in high risk situations or when working at a computer. Apply Nature's Tears® EyeMist® as often as desired. Nature's Tears® EyeMist® is available at http://www.BioLogicAqua.com, Amazon.com, drugstore.com and selected drugstores nationwide.
Listen to the Sharon Kleyne Hour Power of Water Mondays, 10 a.m., PST/PDT. The syndicated radio talk show is heard on Voice America/World Talk Radio, Green Talk Network and Apple iTunes. Go to http://www.SharonKleyneHour.com for written summaries and on-demand replays. Also visit http://www.naturestears.com, http://whatistheeye.wordpress.com, "Nature's Tears EyeMist" on Facebook and "Bio-Logic Aqua" on Twitter. Sharon Kleyne Hour Power of Water is sponsored by Bio-Logic Aqua Research and Nature's Tears® EyeMist®.
© 2011 Bio-Logic Aqua Research
###