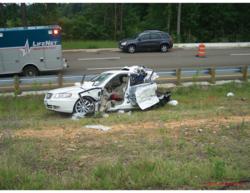 "The John Lindsay Foundation was established in John's memory to turn a heartbreaking experience into something meaningful..."
Austin, Texas (PRWEB) December 15, 2011
In an industry first, Celadon, a major Canadian trucking firm, acknowledged in a recent legal settlement that sleep apnea in one of their drivers most likely led to the death of John Lindsay in a May 2010 trucking collision. Wanda Lindsay, founder of The John Lindsay Foundation, recently announced the $3,250,000 settlement of a lawsuit she and her 3 children filed against Celadon Trucking Company and its driver. The lawsuit arose out of the death of John Lindsay on May 9, 2010.
The Lindsay family was represented by Jim Cole and the Cole, Cole & Easley law firm in Victoria, Texas.
"This is the first case in which a trucking company has acknowledged a death resulting from a driver with sleep apnea," Cole said. "I believe this will have a national impact on the trucking industry."
According to court documents filed in Cause No. DC-10-08146 in the 134th Judicial District Court, Dallas County, Texas, John and Wanda Lindsay were traveling on I‐30 near Texarkana when they entered a construction zone were traffic was stopped. Their car was last in a line of traffic approximately 3 miles long.
The Lindsay car was rear-ended by an 18 wheeler traveling 65 mph in the construction zone with its cruise control engaged at the time of the crash. John Lindsay died as a result of massive injuries received in the crash.
"During discovery in the case, it was learned that the truck driver had severe uncontrolled sleep apnea at the time he drove his truck into the Lindsay vehicle and he had been fired from his previous job for refusing to have a sleep study performed," Cole stated. "Thirty other companies refused to hire him before he was hired by Celadon."
The Federal Motor Carrier Safety Administration (FMCSA) website estimates that almost one-third of commercial drivers suffer from sleep apnea.
As part of the settlement in the case, Celadon agreed to take several actions to better protect the traveling public from dangers associated with truck drivers with sleep apnea.
Celadon agreed to undertake positive steps to educate its drivers regarding the dangers related to sleep apnea and truck driving and the fact that a driver can be treated for sleep apnea and be qualified to drive a truck.
Celadon committed to examine its operations and policies with the assistance of Dr. Charles Czeisler, a nationally recognized sleep expert at Harvard Medical School retained by Celadon during litigation. Celadon will look for every opportunity to prevent what happened to the Lindsay family from happening to other families
Celadon additionally agreed that Dr. Czeisler may use information he learned through the work he did on behalf of Celadon in this case to lobby for changes in regulations and in industry practice to prevent sleep apnea related crashes in the future.
On December 7, 2011, Wanda Lindsay and Jim Cole testified before a joint committee meeting of the Federal Motor Carrier Safety Administration's (FMCSA) Motor Carrier Advisory Committee (MCSAC) and the Medical Review Board (MRB) in Washington, D.C.
The purpose of the meeting was to discuss sleep apnea and proposed new rules.
"The committee adopted a recommendation to establish a sleep apnea standard which has been proposed since 1988. We are very pleased with that development," Cole said. "I believe it had a lot to do with the creation of The John Lindsay Foundation and Wanda's testimony."
Cole noted, "Many people were instrumental in the successful settlement of this case such as Dr. David Fletcher with SafeWorks Illinois, a nationally recognized expert and powerful voice for strengthening DOT medical screening requirements for truck drivers."
"We were extremely fortunate that the John Lindsay case was chosen as the first project of the newly formed Justice Media Lab, Inc. ("JML"), Their team came on board at a critical time during settlement negotiations with a new multifaceted strategy which incorporated a hard‐hitting advocacy/legislative/PR component with a JML produced video and state‐of‐the‐art JML 3D demonstrative technology," Cole stated. "Clearly, JML's innovative vision and tools helped our firm reach a very favorable outcome in this case."
"The The John Lindsay Foundation was established in John's memory to turn a heartbreaking experience into something meaningful," Lindsay reflected after her testimony. "Our goal is to educate the public about the dangers of driving commercial vehicles on our nation's highways with uncontrolled sleep apnea. While we know it is not going to happen overnight, this is a huge step in the right direction."
For more information see:
http://johnlindsayfoundation.org
###