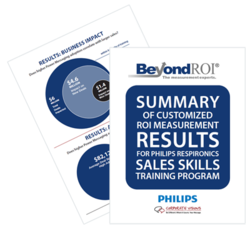 Generating a 10x return for a Marketing messaging and Sales training program is pretty impressive. Doing it in the first four months after the program launch is worthy of a case study.
Incline Village, NV (PRWEB) December 15, 2011
Generating a 10x return for a Marketing messaging and Sales training program is pretty impressive. Doing it in the first four months after the program launch is worthy of a case study. That's why third-party measurement expert, Beyond ROI, recently published these results in a report describing how Philips Respironics proved the business impact of their partnership with Corporate Visions.
Philips Respironics engaged Corporate Visions to elevate their customer conversations from being product-based to solution based, focused on solving prospects' most critical business issues. Corporate Visions helped Philips develop a differentiated message and then trained their salespeople to clearly articulate value and deliver a differentiated sales conversation. Four months after the new messaging and training hit the field, Beyond ROI worked with Philips to conduct an objective review of the program.
"The Beyond ROI survey has been an invaluable tool that shows us how Power Messaging is truly helping our sales reps create and deliver messages that differentiate us from the competition and create value in the eyes of the customer," says Susan McGinnis, Senior Sales Trainer for Philips Respironics. "It also shows us what specific areas we need to focus on to keep Power Messaging alive in the field and create new tools for the sales reps ...[and where] sales managers need to spend more time developing and mentoring salespeople."
The survey identified specific usage levels of the messaging and skills for each sales rep. High and low usage was compared with actual sales numbers to determine the correlation with performance. One of the most outstanding findings was that high users of the new messaging and skills had deal sizes two times bigger than sales reps who reported themselves as low users. Specific deal closings and pipeline attributed to the new messaging and training was quantified to determine the 10x return.
"We're very excited about the Corporate Visions measurements done so far. It has all the indicators of being some of the strongest results we've ever seen," says Scott Watson, Beyond ROI's founder and CEO. "In addition to high usage scores, we're seeing hundreds of tangible examples of how companies are using Power Messaging to have a different kind of conversation and get a different kind of outcome."
Beyond ROI is conducting similar assessments of Corporate Visions projects with Dell, ADP, TATA and CenturyLink Business and expects to release findings in early 2012. Scott Watson and Philips' Susan McGinnis will join Peter Ostrow, Aberdeen's Sales Effectiveness Analyst and Tim Riesterer, Corporate Visions' Chief Strategy and Marketing Officer for a series of Executive Breakfast Roundtables on the topic of Measuring the ROI of Marketing and Sales Alignment Programs.
To download a copy of the case study:
http://win.corporatevisions.com/ROIMeasurementDownloadPhilips.html
For more information on the dates and locations of the ROI breakfast roundtables, check out: http://win.corporatevisions.com/ROIRoundtables.html
About Corporate Visions Inc.
Customer conversations are your best opportunity for competitive differentiation. You need to be different, where it counts. With Corporate Visions you will: develop messages that matter because they focus on your customer and set you apart from your competition; deploy tools that get used by the field because they are aligned to every step in the buying cycle, and empower you to accelerate deals through the pipeline; deliver training for winning conversations that teaches you the science and art of how to tell your story with impact and differentiation at ever customer interaction, making it easy for prospects to choose you.
For more information contact us at http://www.CorporateVisions.com or by calling 775-831-1322 or 800-360-SELL.
About Beyond ROI, Inc.
With U.S. corporate training expenditures exceeding $50 billion annually, learning providers and their clients are increasingly looking to Beyond ROI to conduct measurement studies of the usage and business impact of training initiatives. Based in Dallas, Texas, Beyond ROI has completed over 800 measurement projects linking learning and behavior change with business performance.
For more information contact us at http://www.getbeyondroi.com or by calling 214-872-1100 or 1-877-872-1155.
###