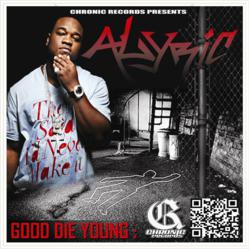 Miami, FL (PRWEB) December 15, 2011
Hip hop artist Alyric recently released his mixtape "Good Die Young." Coast 2 Coast Mixtapes presents the project in association with Chronic Records. It is now available for free download. "Good Die Young" features Alyric on tracks with Taniesha B, Frankie Love, V-12, Cook Crack, Tudi, Ms LP, Premadonna, Mowhett, Billie Jean, Guyana, Kirby Maurier, Y.T., Mass Five Star, and Duce Pound. Production is added by Trackology, Skip of We Loose, Hitsamillion, Young Starr, King Beatz, Gorilla Tek, and Kooley C.
Florida artist Alyric realized his blessings from birth, as he was born exactly one week before Christmas. His love and gift for creating music was realized at the early age of 12. With the exception of P.E., music was always his favorite class throughout elementary school. As an adolescent, Alyric began learning, exploring, and perfecting his wide range of talents.
Alyric soon joined forces with a neighborhood friend, Perle (Duce Pound) that he'd grown up with. This alliance would eventually spawn the creation of Duce Pound Music Group, which also consisted of members Sli-Bo and D-Capital. In 1998 Trap House Studios was formed and this quartet of young raw talent began to gain notoriety locally. Igniting a community of loyal supporters and "hood representers," Alyric soon became the symbol for "chance." A chance for all of those that could or would have made it, but fell short of their dreams. Alyric has enjoyed radio success with singles such as "PussyKat," "That's Insane," and "Hot Music" (Remedy f/ Alyric).
"Good Die Young" is available for free streaming and download at http://coast2coastmixtapes.com/mixtapes/mixtapedetail.aspx/alyric-good-die-young
###