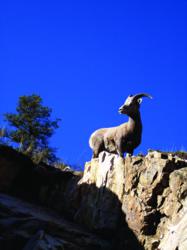 We're grateful to be a part of Nevada's efforts," said Gray N. Thornton, WSF President and CEO.
Reno, NV (PRWEB) December 16, 2011
The Wild Sheep Foundation Convention and Sporting Expo, The Sheep Show™, returns to Reno at the Reno-Sparks Convention Center and the Silver Legacy January 19-21, 2012.
WSF is the largest conservation and mountain hunting convention and recently helped reintroduce desert bighorn sheep in the Virginia Mountain Range of Northern Nevada in cooperation with conservation partners Nevada Bighorns Unlimited and the Nevada Department of Wildlife. It's the first step in an effort to re-establish a population of Nevada's state animal in this range for the first time since the 1880's.
"We're grateful to be a part of Nevada's efforts," said Gray N. Thornton, WSF President and CEO. "Our 2011 convention at the Reno-Sparks Convention Center and Silver Legacy Resort was a grand success for our exhibitors, attendees and WSF conservation funding goals, generating a 43% net increase over the 2010 event."
For the 2012 convention, the WSF expects to generate even more revenue for conservation. Sheep and other permits, from Alberta to Nevada and Texas, and Colorado to California, will be available. With the support of auction bidders, attendees, exhibitors, sponsors and donors, the WSF expects to raise more than $5 million in gross revenue to help wild sheep, and other wildlife across North America and around the globe. For a complete listing of the special sheep and other permits offered visit http://www.wildsheepfoundation.org.
Celebrating its 2012 event, the WSF has again partnered with MidwayUSA as the Official Sponsor of the convention.
In addition to the special permits dedicated to state, tribal, and provincial conservation, the 2012 WSF convention will offer an auction of nearly $2 million in hunts, trips, wildlife art, fine sporting arms, hunting gear and accessories for the wild sheep and hunting enthusiast. Funds generated at The Sheep Show will help wild sheep conservation efforts throughout North America and the world.
The three-day convention and expo is open to the public, Thursday through Saturday, January 19-21 at the Reno-Sparks Convention Center. Show hours are 10 a.m. – 5 p.m. Thursday, 10 a.m. – 5 p.m. Friday and 9 a.m. – 5 p.m. Saturday.
Daily admission is only $10 with $5 off coupons available at Reno-Sparks Cabela's, Scheels, Sportsman's Warehouse, and Scolari's Food and Drug Company stores. As an added incentive to attend the show "floor credit" drawings will be offered Thursday, Friday and Saturday for credits valued at $1,000 to $5,000 to be used with Expo exhibitors. Five $1,000 credits will be drawn Thursday, two $2,500 credits drawn Friday and one $5,000 credit Saturday. Attendees must be present to win. Daily passes are available at Expo Registration.
The banquet and live auction events kick off Wednesday evening January 18 at the Silver Legacy's Reno Ballroom downtown. WSF will hold their legendary auctions Wednesday, Friday and Saturday evenings. In addition, a Ladies Luncheon, International Night party, Ram Awards breakfast and Life Member Breakfast will be held at the Silver Legacy.
Other events include a Sporting Clays Shoot with USA Shooting Team members Thursday morning at Sage Hill Clays, and a wine tasting in the expo hall Saturday. Visit the Foundation's website for a full schedule and details on the events.
"We look forward to returning to Reno again in 2012 and are pleased to announce that in 2013, WSF will host the Sheep Show™ under one roof at the Grand Sierra Resort" said Thornton. "The Grand Sierra Resort property was the home for the Sheep Show™ for nearly two decades. We look forward to the January 30-February 2, 2013 homecoming event as well."
Nevada is home to nearly 10,000 bighorn sheep, which is more than any other state. This conservation success is due the exceptional work of Nevada wild sheep advocates, Nevada Bighorns Unlimited and Fraternity of the Desert Bighorn, the Nevada Department of Wildlife and other WSF partners
The Wild Sheep Foundation, formerly the Foundation for North American Wild Sheep, was founded in 1977 by sheep and mountain hunting enthusiasts and conservationists. With a membership of more than 6,000 worldwide and a chapter network in North America, WSF is the premier advocate for wild sheep, wild goats, other wildlife and their habitat
The Wild Sheep Foundation has raised more than $80 million for conservation and educational programs in North America, Europe and Asia. In 2011, the Wild Sheep Foundation has raised and put on the ground more than $3 million for wildlife conservation and other mission programs.
For a full schedule of events and to join as a member, or for more information on the Foundation and the conservation and education programs, please visit http://www.wildsheepfoundation.org, contact 800-OK-FNAWS or email info(at)wildsheepfoundation(dot)org. FollowWSF on facebook.com/wildsheepfoundation.
###