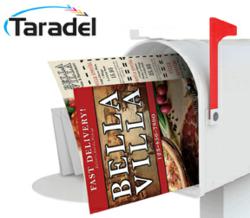 We are honored to lead the pizza industry with innovative direct mail marketing solutions.
Richmond, VA (PRWEB) December 19, 2011
Taradel, the nation's leading pizza menu printing and direct mail service provider, announced today that the company has mailed two million pieces using the USPS Every Door Direct Mail ™ program.
"We are honored to lead the pizza industry with innovative direct mail marketing solutions," said Taradel CEO Jim Fitzgerald. "By developing a proprietary point-and-click postal route targeting tool, and bundling design, printing, and mailing services, we now offer pizza operators the ultimate turnkey marketing solution. My job every day is to make sure we are the best value provider in the industry. We believe the results we've seen clearly confirm that. We have dedicated substantial resources towards enhancing our customers' experience, and will continue to do so."
While other printing companies force pizza operators to place large bulk printing orders, often from locations outside of the U.S., Taradel provides pizzerias with flexibility, free marketing consultation, and American-made solutions – all for the best rates in the industry.
"What if operational costs increase or the price of cheese skyrockets?" questions Chris Barr, marketing director for Taradel. "No pizza operator wants to get stuck with menus or coupons that list unrealistic prices. Our tools enable advertisers to choose the right products and services for their specific needs."
The USPS launched Every Door Direct Mail™ (EDDM) to increase mail usage within the small business community. The solution enables business mailers to reach geographically targeted audiences, virtually anywhere in the country, by using carrier route information, instead of individual names and exact addresses.
Pizzerias have all but abandoned traditional direct mail methods, such as mailing lists and ink jetting processes, in favor of the easier, more cost-effective EDDM service. Now, pizza operators can use Taradel's website to target their EDDM mailing areas online, get instant counts of households and businesses, and place turnkey orders in less than ten minutes. After placing an order, their powerful marketing collateral (menus, flyers, or postcards) deliver into homes in as few as two to three weeks.
About Taradel LLC
Taradel is the nation's leading provider of pizza industry marketing solutions. Over 5,000 restaurants maintain accounts at Taradel.com. The company was named to the prestigious list of Inc. 5000 companies for the fourth consecutive year, and is a U.S. based organization. For more information call (800) 481-1656 or visit http://www.Taradel.com.
###