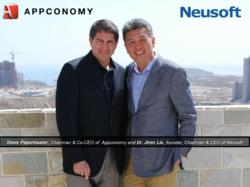 "With these two, new cornerstone commitments from Qiming and Neusoft, Appconomy will move rapidly to bring our unique AppWallet marketplace for global brands and local merchants to China"
Austin, TX and Shanghai, China (PRWEB) December 19, 2011
Appconomy, Inc. announced today that it has closed a $10 million round of Series A equity and venture debt funding intended to accelerate the company's strategic initiatives and operations in China. Shanghai-based Qiming Ventures led the round, and will have a representative join Appconomy's board of directors. Neusoft Corporation became a significant minority shareholder of Appconomy. Other participants in the round included existing investors Western Technology Investment and True Ventures.
"With these two, new cornerstone commitments from Qiming and Neusoft, Appconomy will move rapidly to bring our unique AppWallet marketplace for global brands and local merchants to China," said Steve Papermaster, Chairman and co-CEO of Appconomy. "I'm delighted to welcome Qiming Ventures as an investor, with Managing Director Gary Rieschel joining the Appconomy board of directors."
In addition to closing the financing round, Appconomy also closed the strategic alliance agreement announced in September with Neusoft Corporation, China's largest IT solution and service provider. Together, the companies plan to leverage combined customers and partners in China and the U.S., the two largest markets for apps in the world.
"With these new partnerships and capital commitments closed, we have begun operating aggressively in taking our AppWallet marketplace, and smartphone and tablet apps to consumers and merchants in China," said Brian Magierski, President and co-CEO of Appconomy.
Appconomy's footprint in China includes a Chinese corporate headquarters in Shanghai and a development center in Chengdu, Sichuan province. The company continues to operate its U.S. headquarters in Austin, focused on product development and U.S. business development.
About Qiming Ventures
Qiming is a premier venture capital firm with over $1 billion under management, with several offices in China and the U.S. For more information, visit http://www.qimingvc.com.
About Neusoft
Neusoft is the leading IT solution and service provider in China with operations across the globe. Focusing on software technology, Neusoft provides industry solutions, product engineering solutions and related software products & platform, and services. For more information, visit http://www.neusoft.com.
About Appconomy, Inc.
Appconomy operates a cloud-based platform for mobile marketing and commerce that directly connects consumers and merchants through its AppWallet(TM) marketplace and AppWallet(TM) app for smartphones, tablets, and feature phones. For more information, visit http://www.appconomy.com.
###