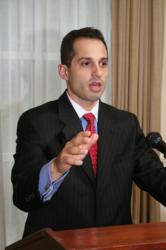 Ridgewood, NJ (PRWEB) December 21, 2011
Hot on the heels of the release of his successful book, Engineer Your Own Success: 7 Key Elements to Creating An Extraordinary Engineering Career, Anthony Fasano was honored to be the keynote speaker at the Professional Engineers of North Carolina Annual Conference in Raleigh, North Carolina on December 12th, 2011.
Prior to this event, Fasano was also the main speaker at the annual American Society of Civil Engineers (ASCE) Lehigh Valley Section holiday banquet in Bethlehem, PA on December 8th. It was a very special evening as the chapter invites all of the past-presidents and honors them during the night's festivities. A fairly large audience ranging from engineering students to retired engineers attended this professional function. Fasano acknowledged that it was wonderful to see so many young attendees as part of his speech and stressed that you are never too young to begin networking and building relationships in your engineering career. In addition, Fasano also discussed the necessity of proper resume preparation as well as providing the student base with recommendations for obtaining a professional engineering license as early in their careers as possible, including application preparation tips. Special emphasis was placed on the importance that public speaking can play in creating a successful engineering career as well.
On December 13th, Fasano had the pleasure of being the keynote speaker at the Professional Engineers of North Carolina annual conference in Raleigh, North Carolina. The event was held at the McKimmon Center for Extension and Continuing Education on the North Carolina State University campus where the audience consisted mostly of more experienced engineers. Fasano focused his talk on discussing how established engineers could better assist their project teams and staff to be more successful. Using examples from his book, Engineer Your Own Success: 7 Key Elements to Creating An Extraordinary Engineering Career, Fasano emphasized the importance that social media plays in today's marketplace, and strongly suggested that all members present develop a presence on LinkedIn© to encourage growth potential within their respective firms. As Fasano is also an effective public speaker, he discussed the need of developing proper communication skills, as this is a 'must have' when dealing with fellow workers on your team, and also when communicating with your clients.
As Fasano began his speaking tour in September, he is now looking forward to spending some quality time at home with his family over the upcoming holidays, but will be back on the road again in January where he is scheduled to present a seminar on networking for engineers at the ASCE Eastern Regional Younger Member Council Conference in Nashville, TN.
For more information on booking Fasano or to learn how you can arrange for him to be a speaker at your next event, please visit http://PowerfulPurpose.com/ or contact him at info(at)powerfulpurpose(dot)com.
Anthony Fasano, AKA Your Professional Partner, CEO and founder of Powerful Purpose Associates, is a nationally recognized professional coach and inspirational speaker specializing in the areas of business growth and career development, as well as leadership skills. Fasano has been a keynote speaker at hundreds of events and has had a huge impact on many professionals including engineers, engineering organizations, community groups, Chamber of Commerce's, and small business owners. Fasano sends out brief but powerful daily e-mail message to professional's worldwide called A Daily Boost from Your Professional Partner, which help inspire professionals to career success. To sign up for these motivational tips, go to http://www.PowerfulPurpose.com.
# # #