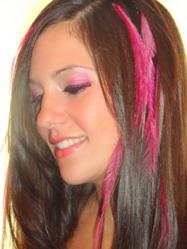 I wanted to do this category, becasue I feel like this was not only an important category, but close to my heart.
Rochester, NY (PRWEB) December 21, 2011
While growing up in the small town of small town of Le Roy, NY, Kristi Bennetti was told by her parents, Bob and Phyllis, "to do something that you love, because you will never work a day in your life". After considering this amazing advice, this lead her to the amazing world of cosmetology-or hairdressing as it's most commonly known.
Bennetti graduated from Shear Ego International School of Hair Design in Rochester, NY, and received her cosmetology license and La Coiffure certification.
After sharpening her skills with hands-on practice and numerous cosmetology courses,worked in a number of well-known salons in the Rochester NY area, and earned the title and status of Master Stylist.
Wanting to share her love for the field, she returned to her school to share her passions with aspiring cosmetologists.
It wasn't long before Kristi found she wanted more out of her career, and that has lead her to obtain her cosmetology instructors license and found herself sitting in a interview with Megan Donner (Director of Operations & Marketing) and Maria Fustiano(Director of Education). Now, as an instructor at Shear Ego, she is able to pass on her experience, skills, passion, and love of the cosmetology world. She teaches with excitement and encouragement, motivating her students to accomplish their goals, emphasizing what an amazing career awaits them, along with all the great instructors and staff at Shear Ego.
Kristi took part in the Pink Ribbon Contest a breast cancer awareness contest sponsored by Air Feather Extensions and was responsible for make-up, hair/feathers, style, and design. Her first model was her friend of many years, Arlene Hall.
She entered several catagories, under Beauty, Fantasy/Avant Garde, and Survivor.
"I picked Arlene for Beauty," she says, "because she is simply beautiful and just enhancing her features, it make her beauty stand out, and they are gorgeous pictures."
Kristi's other model was done under the survivor category.
"I wanted to do this category, becasue I feel like this was not only an important category, but close to my heart," she says.
"I was so happy," Bennetti says, "because most contests don't have this catagory. Air Feather Extensions both challenged and amazed me by including it. A lot of the women that most people would think of for this category do not have hair."
After considering who she wanted to be her model, she decided on Leah Booth, someone that has shown her beauty, strength, and has been an inspiration to herself and others. She made Leah some beautiful feather earrings from Air Feathers, and went to work.
Leah's Story:
"I was diagnosed with Invasive Ductal Carcinoma in April 2011 at the young age of 30 after finding a lump and the several tests that had to be done before confirmation. With the help of my husband Vince, my children (ages 5 and 7), my mother, and several other family and friends I was able to get past the bilateral mastectomy, 9 weeks of chemotherapy, and my hair loss. Now, on the road to recovery I am happy to be part of the survivor group that can advocate to and for others!"
"I'm so happy that not only will these two girls grow up knowing that a strong woman is," says Booth, "But to know the strength and beauty of being one as well."
With her win, Kristi gets her pictures featured on the front page of Air Feather Extensions's website, as well as getting to know that her efforts will keep Breast Cancer Awareness front and center in the public's eye all year long.
"I've obtained so much in my career and personal life," exclaims Bennitti, "from working in this profession that I can't wait to see what the future holds for me in this industry!"
Bennetti is currently an instructor at The Shear Ego International School of Cosmetology.
The Shear Ego school is owned and operated by Gene Cardamone and Peter Webb, and specializes in cosmetology, esthetics, barbering, nail specialty and waxing.
Air Feather Extensions newest project is the Evolution Salon at Serenity House in San Diego.
###