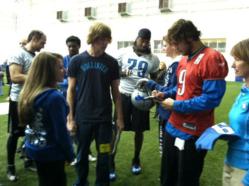 Los Angeles, CA (PRWEB) December 21, 2011
Jeffrey Gottfurcht Children's Arthritis Foundation (JGCAF), a wish-granting organization, announced today that its Founder, Gottfurcht, in partnership with the Detroit Lions, fulfilled the dream of Danielle, a 16-year-old Detroit youth living with arthritis and suffering from painful inflammation of her joints and recently had both hips replaced.
"As I've undergone treatment, I've witnessed first-hand so many children who have to put everything on hold, including their dreams. My goal is to help young people suffering from juvenile arthritis dream again, and by doing so, bring added attention to the disease and the need for a cure," said Jeffrey Gottfrucht, founder of the JGCAF.
Danielle was recently presented with her "wish" – to meet her favorite Detroit Lions players. Danielle and her family attended their December 9th practice and then were hosted at the team's December 11th home game against the Minnesota Vikings, where she received autographed Lions memorabilia and a new Apple MacBook Pro® laptop. Gottfurcht also presented to the Lions and Hall of Famer, Charlie Sanders, a framed Detroit Lions' flag that he took with him to the top of Everest.
"Jeff is an inspiration, said Detroit Lions Interim Director of Community Affairs, Kim Doverspike. To take on a task like this that puts himself at risk, for the benefit of children and others, is selfless and the Lions are excited to partner with him and his foundation to help children like Danielle who suffer with this debilitating disease."
Gottfurcht (38), the father of three young children, created the JGCAF, a wish-granting organization, to brighten the lives and provide resources for some of the more than 300,000 children in the United States afflicted with rheumatic diseases.
Diagnosed at 28 with rheumatoid arthritis (RA), the avid mountain climber set out to fulfill his own dream. Earlier this year Gottfurcht became the first RA patient to conquer Mt. Everest at 29,035 feet, despite having the autoimmune disease, which attacks the joints and causes inflammation, joint pain and stiffness, while leading to fatigue and permanent joint damage. After scaling the world's highest mountain, Gottfurcht, announced in October that he will continue the arduous climbs in hopes of inspiring children and others to achieve their dreams by completing a series to climb the Seven Summits*, the highest peak on each continent.
Third on the agenda is Cerro Aconcagua of the Andes Mountains; located in Argentina, it is the highest peak in South America and, at 22,842 feet, the highest mountain outside the Himalayas.
Gottfurcht will undertake an expedition in January, which is the summer season below the equator. He plans to climb one summit per year to continue to make dreams come true for children living with juvenile arthritis, until a cure is found.
As with the Mount Everest expedition, a key supporter of Gottfurcht's Seven Summits climbs is Rik J. Deitsch, Chairman and CEO of Nutra Pharma Corporation (OTCBB: NPHC), a biotechnology company. Gottfurcht uses the company's medication NyloxinTM, an over-the-counter treatment for chronic pain, to aid in relieving the pain and inflammation that accompanies rheumatoid arthritis.
BACKGROUND ON RHEUMATOID ARTHRITIS: For many, the diagnosis of Rheumatoid Arthritis (RA) brings lifelong pain, joint destruction, deformity and immobility. For young patients, the ravages of juvenile arthritis are often more severe than those in adults, including loss of mobility as well as organ failure, loss of sight, hearing, and severe digestive difficulties. Dream requests to the Foundation are wide ranging—from requests to help cover educational and medical costs to requests to meet celebrities or receive big screen computers or Wii systems—to help a child cope with limited visibility or mobility. Since December 2009, over 14 children including Danielle have been granted their dreams by the JGCAF. The goal of JGCAF will be to fulfill one dream a month, nationally.
Children age 4 to 21 afflicted with juvenile arthritis are eligible for a "wish grant." The Foundation encourages a member of a child's medical team (doctor, nurse, social worker or child-life specialist), a parent, sibling or legal guardian to propose a wish for a child suffering from juvenile arthritis. Children with juvenile arthritis may send in their dream request directly. After JGCAF receives the dream request the Foundation works with its network of supporters to make the wish come true.
*EDITORS NOTE: The Seven Summits are Mount Everest (29, 035 feet Asia): Cerro Aconagua (22, 842 feet, South America); Mount Denali (20, 320 feet, North America); Mount Kilimanjaro (19, 340 feet, Africa); Mount Elbrus (18, 510 feet, Europe); Mount Vinson (16. 067 feet, Antarctica); the Carstenz Pyramid (16,023 feet, Oceania) and Mount Kosciuszko (7,310 feet Australia).
About Jeffrey Gottfurcht Children's Arthritis Foundation (JGCAF): JGCAF was founded by Jeffrey Gottfurcht with a dual mission regarding rheumatoid and juvenile idiopathic arthritis: to inspire afflicted young people who optimistically await a cure and to educate and generate awareness among the public. At the age of 28, Gottfurcht was diagnosed with rheumatoid arthritis; after undergoing years of treatment; he wanted to share his determination to fight the disease while bringing joy, strength and support to children and young adults similarly afflicted. Gottfurcht was the first RA sufferer to summit Mt. Everest in 2011; he set this feat as a way to inspire those living with RA to achieve their own dreams. As a wish-granting Foundation, JGCAF accepts referrals for dreams from parents, guardians, siblings, members of the medical community, and directly from children suffering from juvenile rheumatoid arthritis. The Foundation's Dream Team helps select dreams that are prudent and possible and assists in making them come true. Help fulfill a dream of a child living with Juvenile Arthritis today. For more information please call 310.855.3745 or visit http://www.JGCAF.org. Note: to respect the privacy of its dream recipients, the JGCAF does not disclose last names.
For More Information, Contact: Jenny Randall, Jenny(at)RevvGroup(dot)com or 415.279.9893
###