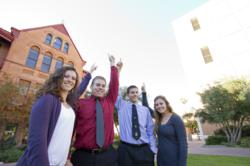 "We knew that we had the ability to change the world when we started this project!"
Scottsdale, AZ (PRWEB) December 20, 2011
The founders of ASU Student startup G3Box, a more-than-profit company, have been named College Entrepreneurs of the Year for 2011 by Entrepreneur Magazine (EM). The College Entrepreneur of the Year award is one of three awards bestowed by the magazine on the nation's top entrepreneurs of the last year. The magazine received thousands of entries for the competition and then selected the top five entries in each award category as finalists. The finalists were then announced to the general public who voted for their top picks for each award. G3Box received votes from all over the world, including Ireland and Russia. A judging panel made the final decision.
"It was an amazing feeling knowing that our friends, families, associates, and complete strangers from around the world, believed in and supported our idea" said Gabby Palermo, co-founder of G3Box. "I think all of us are humbled and grateful for the award and we can't wait to see where this takes us."
Members of the G3Box team were challenged in one of their courses to determine a way to repurpose the numerous shipping containers that have been discarded at ports around the world. They immediately began to think of ways to turn the containers into something that would help people. The ASU team came up with the idea of turning the containers into portable maternity clinics that could be shipped to countries that had extremely high maternal mortality rates.
The team (which includes Palermo, a junior studying Biomedical Engineering Billy Walters a senior mechanical engineering major, and Susanna Young and Clay Tyler both graduate students pursuing masters degrees in mechanical engineering) began plans to refurbish the containers, adding ventilation, insulation, power, and potable water. From these plans G3Box, a more than profit company aimed at generating global good, was formed.
"We knew that we had the ability to change the world when we started this project" said Susanna Young, co-counder of G3Box. "G3Box started from a desire to reduce drastically high maternal death rates in the developing world. It is about the medicine and the clinics, yes, but it is also about creating jobs, developing economies, and improving the lives of people all over the world."
G3Box is currently a part of ASU's Edson student accelerator based in ASU SkySong, Scottsdale's Innovation Center. The Edson accelerator provides funding, mentoring, and office space that enables students to advance their ventures.
Two of the other four finalists for EM's College Entrepreneur of the Year came out of the Edson Accelerator. Jeremy Ellens, founder of Ellens Technologies a company that creates diagnostic reference tools and mobile applications (for iOS and Android platforms) for veterinarians and students to use to reduce diagnostic time and potential human error, and Christian Stewart, founder of Boson Inc. a provider of Stereoscopic 3D software/hardware systems and high-fashion eye ware, were also selected as finalists in this year's competition.
"We are very proud of the companies in the Edson program" said Gordon McConnell, Director of Venture Acceleration at ASU SkySong. "The companies coming out of the student startup accelerator are doing amazing work, generating revenue, and gaining international exposure".
Contact:
Meagan Garrett
Marketing and Communications Manager
ASU SkySong
Ph: 480 884 1814
Email: meagan(dot)garrett(at)asu(dot)edu
About G3Box:
G3Box provides engineering design and manufacturing towards the conversion of steel shipping containers into low-cost, modular, and mobile medical clinics. G3Box is a socially minded business; for every medical clinic sold, a portion of the profits will go towards providing clinics to organizations that work in developing communities addressing critical health care issues.
About the Edson Accelerator:
The Edson Accelerator provides funding, office space, and guidance to teams of students within all university disciplines. This accelerator gives student entrepreneurs the opportunity to develop their innovative ideas and launch viable businesses. As an integral program of ASU Venture Catalyst, students in the Edson accelerator have access to seasoned entrepreneurs, industry mentors, and other Catalyst programs that enable them to advance enterprise.
About ASU SkySong:
ASU SkySong impacts local, state and international economies by engaging the University with businesses and governments to drive economic development and global enterprise. ASU SkySong helps grow the economy through launching and accelerating new companies and promoting use inspired research. ASU SkySong, and the dozens of emerging innovation driven companies located there, are dedicated to positively impacting the economies of our state and the country for years to come.
###