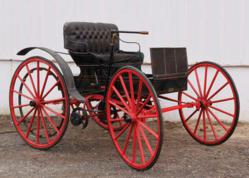 Boston, MA (PRWEB) December 21, 2011
The Holsman Automobile Company was an early automobile manufacturer located in Chicago, Illinois and in business between 1901-1910. It was founded by Henry K. Holsman and produced a high wheeler automobile for several years. A single-cylinder air -cooled engine powered the Holsman. It used a double roller chain drive to a lay shaft, with a rope drive to the rear wheels. A joystick rather than a wheel like most cars operated it.
Featured in Kaminski Auctions pre New Years Sale which takes place January 28th & 29th at 5pm at their Beverly, Massachusetts auction gallery, the Holsman Model 7's body and motor are in remarkably good condition, with some repair needed to the seat. The rope drive has been upgraded with an automatic oiler at the time of manufacture and the paint is believed to be original.
The Holsman was advertised with the motto" High Wheels Travel All Roads Because All Roads Are Made To Be Traveled By High Wheels". Auctioneer Frank Kaminski says " These vehicles very rare and do not come to market often, you can imagine any classic car collector or car museum would love to have one of these remarkable vehicles in their collection". The Holsman Model 7 High Wheeler is estimated to bring $25,000-$35,000. For more information or to register for this sale please go to http://www.kaminskiauctions.com or call 978-927-2223.
###