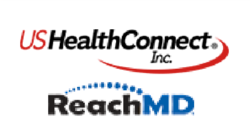 The acquisition very closely aligns with our strategy to extend the availability of medical information and education across all reliable platforms.
Fort Washington, PA (PRWEB) December 21, 2011
US HealthConnect (USH), a leading conglomerate of healthcare education and information companies, announced today it has signed an agreement to acquire substantially all the assets of ReachMD, including its mobile technologies, Internet properties, and rights to its Sirius/XM Satellite Radio Channel XM 167. Chicago-based ReachMD launched the first-ever national radio channel for medical professionals, broadcasting a 24/7 resource of clinical discussions, news, and education on the internet and satellite radio.
"The acquisition of ReachMD's assets very closely aligns with our strategy to extend the availability of medical information and education across all reliable platforms," said Frank Russomano, President and CEO of USH. "ReachMD's Internet platform with more than 150,000 members and its satellite radio station with more than 350,000 listeners significantly expands our portfolio of innovative solutions to reach and educate healthcare professionals nationwide."
ReachMD's award-winning network and proprietary technologies deliver compelling radio content via XM Satellite Radio, online streaming audio, on-demand audio programming, and mobile phone applications to help time-constrained healthcare professionals stay abreast of new research, treatment protocols, and CME requirements. One of its many titles includes the popular series Voice From American Medicine, featuring physicians on the frontlines of medicine discussing stories of triumph, tragedy, humanitarianism, and innovation.
ReachMD's former Senior Vice President Arthur Marchesini Jr. has joined USH as Senior Vice President, stating, "The substantial legacy of ReachMD will now continue in the very capable hands of USH, a company with significant operational and strategic marketing expertise. ReachMD's customers will see immediate benefits of this alignment, which includes expanded operations teams with vast experience growing entities in the healthcare information and education realms."
ReachMD will be a wholly owned entity under the USH umbrella, which currently includes two CME entities (Omnia Education, its Women's Health entity, and Prova Education, its Primary Care and Specialty Markets entity), one strategic marketing/consulting entity (Connect Healthcare Communications), and an audio-visual entity (Winding River Productions).
In addressing the timetable for transition of ReachMD operations and projects, Frank Russomano commented, "We will begin alignment of our organizations immediately and look forward to introducing ReachMD's customers and partners to the experienced teams at USH."
ABOUT US HEALTHCONNECT, INC.
US HealthConnect's mission is to provide relevant and practical information and education to healthcare professionals to improve patient outcomes. Healthcare education is our core expertise, and it is developed and delivered based on in-depth knowledge of industry guidelines of the FDA, OIG, ACCME, PhRMA, AdvaMed, AMA and more. USH services five wholly owned entities and is structured to operate in full compliance with separation of accredited provider and commercial interest entities.
ABOUT REACH MD
ReachMD is a leading producer and distributor of advanced healthcare information and education for medical professionals, including free CME. ReachMD's live stream and on-demand audio programming is delivered via XM Satellite Radio, ReachMD.com, and the MedicalRadio app for iPhone and BlackBerry. In 2010, ReachMD was named the Best Healthcare Professional Media Brand by Medical Marketing & Media.
###