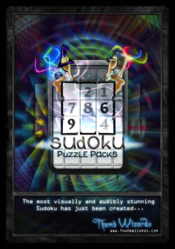 Given the number of choices, we wanted to make Sudoku Puzzle Packs a game that is worthy of the real estate on their mobile devices, and also maximizes the technology and features of iPhones and iPads
West Bloomfield, MI (PRWEB) December 22, 2011
The popular Sudoku App for iPad & iPhone, Sudoku Puzzle Packs has recently been updated by the Michigan based development company Thumb Wizards, makers of top-ranked entertainment apps for iPhone, iPad and iPod iTouch.   Owner of Thumb Wizards, Mark Perkins, has announced the update to their popular Sudoku Puzzle Packs, available for immediate download through the iTunes App Store.   The latest version gives users options to either purchase puzzle packs, or unlock them for free via advertisements.
"What we have designed for Sudoku fans is a universal approach to playing Sudoku on either iPhone or iPad.  We spent a great deal of time implementing  unique features which would provide users a more aesthetic interface.  The App store offers over 500 different versions of Sudoku game apps for iPhone and iPad.  Given the number of choices, we wanted to make Sudoku Puzzle Packs a game that is worthy of the real estate on their mobile devices, and also maximizes the technology and features of iPhones and iPads," Perkins remarks.  
The free download comes with six escalating challenge levels, including a training pack that introduces novices to the game via four-by-four & six-by-six puzzle sizes, smaller than the nine-by-nine traditional Sudoku puzzle.  Each pack can be accessed for free and comes with carefully placed ads which don't distract from a great-looking interface.
 
Each puzzle pack has the option to purchase an upgrade via in-app purchases, which enlarges each puzzle in size to the edge of the screen, and facilitates an easier playing experience for players with fat fingers or bad eyesight.
Sudoku Puzzle Packs is ranked in the Top 100 of board game apps in 31 countries, and in the Top 100 puzzle apps in 16 countries. Each game runs best on iPhone 4 and up, as well as iPad 2 and the latest iPod Touch.               
About Thumb Wizards:
Mark Perkins is CEO and founder of Thumb Wizards, an entertainment app company based in Michigan  and creator of the Sudoku Puzzle Packs, as well as Thumbstruments, MobiMote Remote for Windows Media Center enthusiasts & The Speakin Apps; a suite of entertaining language translators for accents & dialects; Aussie, British, Gangsta, Irish, Pirate, Jamaican and others.  For more information contact http://www.thumbwizards.com or email contact(at)thumbwizards(dot)com.
###