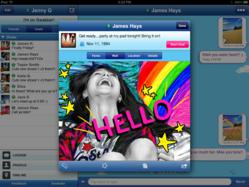 (PRWEB) December 21, 2011
Swakker lets a user personalize their mobile messaging. Now users can communicate in creative ways, like drawing in a chat and writing messages in the sky. Swakker is powerful, allowing users to text with all their friends, and it's special, giving them the ability to create and share pictures and messages that no other service provides.
Features
Write 3D messages in the sky and send them to friends on Swakker, Facebook, email, SMS and IM.
Draw in chats in an ongoing stream on new and album photos.
See where friends are on a live GPS map. Choose whether to share location.
Text for free with any mobile.
Chat with friends and sync status and availability across all IM services.
Swipe from chat to chat.
Combine Swakker, Facebook, Address Book and IM friends into one buddy list.
Tap a song, artist, album or movie in a friend's list of Faves to download in iTunes.
Decorate a friend's Swakker Wall with stamps and doodles.
Receive an alert from Swakker Seatbelt when a user may be texting and driving.
Receive an alert from Swakker Goggles when a user texts after midnight.
So, wanna swak?
###