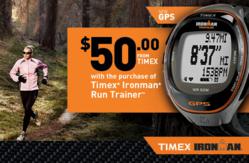 ...there is no better time to buy a device to guide that renewed commitment to fitness.
Bozeman, MT (PRWEB) December 22, 2011
National online retailer the Heart Rate Watch Company has announced their annual after Christmas sale event on heart rate monitors, GPS watches, bike computers and their complete line of fitness electronics.
"Americans go back to the gym in droves during the month of January and there is no better time to buy a device to guide that renewed commitment to fitness" says Rusty Squire, President of the Heart Rate Watch Company. He adds, "This means that all of our Polar, Timex, Suunto and Garmin products are selling at their best prices of the year so it's a great time to use that Christmas cash to get a deal and improve your health in the process."
Several manufacturers are offering incentives and cash rebates for the after Christmas sale event.
Timex is offering $50 cash back on their new Timex Run Trainer GPS watch through December 31, 2011, making it the best priced GPS watch for runners. The Timex Run Trainer was named the best new running GPS watch for 2011 by Heart Rate Watch Company.
The Garmin Forerunner 310XT has been a perennial favorite for triathlon and Garmin is offering a $50 cash rebate on this watch through December 31st, 2011.
"A lot of new products have recently been announced such as the new Garmin Forerunner 910XT and the Suunto Quest" says Squire. He adds, "Sales of these products have been brisk and those wishing to get a new Garmin 910XT in late January of 2012 need to get their reservation orders in soon."
Heart Rate Watch Company is also a leading authority on iPhone fitness and has put together an iPhone bike pack with extended battery that allows the iPhone to operate in GPS mode for up to 5 hours, making it very useful as a bike computer with full mapping capabilities.
Polar heart rate monitors are currently selling at their lowest prices in years making it a great time to get a Polar unit to take back to the gym with savings from $20 to over $100 per unit.
The Heart Rate Watch Company after Christmas sale only lasts until Saturday, December 31st. As always the company offers expert selection advice and tests all the products they sell along with providing buyers with advanced resource tools.
# # #