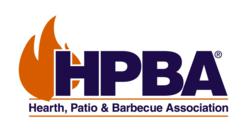 Arlington, VA (PRWEB) December 27, 2011
The CSA – America Vented Heater Technical Advisory Group met in Cleveland on December 13, 2011 and approved language mandating certified barriers to protect children and other at-risk people from the glass fronts of gas fireplaces. This recommendation for a revised standard now goes to the CSA Z21.50 and Z21.88 committees for their review.
If ultimately approved by the ANSI Board of Standards, a gas fireplace or gas heater must include a certified barrier if the temperature of the glass front can exceed 172 degrees F. The Hearth, Patio & Barbecue Association (HPBA) supports this revision and is committed to educating homeowners on safety precautions when using their fireplaces and other home heating products.
"Safety is our first priority, and we want people to enjoy the warmth and ambiance of their fireplaces and stoves, but be reminded that they can get hot," said Jack Goldman, president & CEO of HPBA. "Children are by nature curious and need to be protected from hot surfaces."
In 2007, HPBA developed an internationally-recognized warning symbol for manufacturers and retailers of gas fireplaces and gas heaters to inform homeowners that glass fronts can become extremely hot due to their high efficiency and precautions should be taken. HPBA also recommends that consumers follow the manufacturer's instructions for the safe use and maintenance of their heating products. To learn more about HPBA's safety guidelines, please visit, http://www.hpba.org/staysafe.
The Hearth, Patio & Barbecue Association, based in Arlington, VA, is the North American industry association for manufacturers, retailers, distributors, representatives, service firms and allied associates for all types of hearth, barbecue and patio appliances, fuels and accessories. The 2500-member association provides professional member services and industry support in education, statistics, government relations, marketing, advertising and consumer education.
###