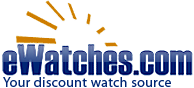 Our commitment to our consumers is always high, and particularly so during the holidays. We decided to offer them free overnight shipping this year as a way to say thank you for their loyalty.
Hollywood, Florida (PRWEB) December 23, 2011
eWatches.com, a leading online retailer of men's watches, is rewarding their loyal customer base with free overnight shipping on orders over $200 and free Saturday delivery on orders over $350. The holiday shopping incentive ensures that watch lovers will receive their holiday gift by Christmas day. In addition, eWatches is offering an extended holiday return period this year--through to February 2012.
eWatches is a popular discount watch e-commerce site that is renowned for offering their customers the best prices on watches that suit every budget, from Swiss Made luxury watches by manufacturers including Rolex, Breitling and Tag Heuer, to premium Japanese watches such as Seiko, and domestic watches by manufacturers including Activa and Invicta.
The prices of watches on the eWatches website are as low as just $19.99 for an Activa digital watch. And as high as $63,870 for a white diamond women's watch by Rolex. Though at 40% off the recommended retail price of $106,450 it is still an enormous savings.
If looking for a watch with a middle-of-the-road price tag, there is plenty to choose from. Their beautiful watches for men and for women come in a variety of styles--from bracelet and divers, to ceramic and chronograph watches. And with free overnight delivery on all orders over $200 and free Saturday delivery on all orders over $350, eWatches is giving their shoppers the perfect opportunity to invest in a new watch.
It's hard to believe that the holidays are just days away and if you have left your gift buying to the last minute or are looking for a great way to invest that holiday bonus the free overnight shipping takes away the stress of last-minute shopping.
About eWatches
eWatches.com is an award-winning website that has been selling watches to tens of thousands of satisfied customers since 2003. In both 2007 and 2008, Inc. Magazine selected eWatches.com as one of America's 500 Fastest Growing Companies in its annual Inc. 500 list. eWatches gives customers a superior shopping experience with:

FREE Shipping on all domestic orders
100% Satisfaction Guarantee
Low Price Guarantee
30 Day Money Back Guarantee
To get the latest buzz and inside scoop, follow eWatches on Facebook and Twitter find them at 'ewatchescom'.
###