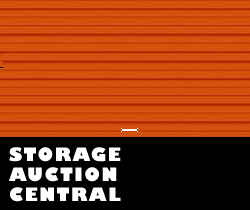 The more expensive unit contained a chest full of gold and silver coins and bars. It took three men to carry it out.
(PRWEB) December 25, 2011
The popularity of storage auctions continued to surge throughout 2011 primarily due to television shows like A&E's Storage Wars franchise, which continues to set network records. Tony Emerson reports for StorageAuctionCentral.com on 5 of the biggest storage auction scores encountered this past year.
5. As seen on TV (approximately $20,000)
On Auction Hunters, Spike's younger and less popular version of A&E's Storage Wars, bidders traveled to the Dallas, Texas, area for the largest storage auction in the country (over 800 units).
One particular unit housed antiques ranging from guns – including a Winchester buffalo rifle – to antique slot cars. It was basically the dream unit for a gun enthusiast. It's notable because it was the biggest win of Auction Hunters and at the biggest storage auction of the year. Although there were probably a number of units that were valued between $20,000 and the purported $100,000+ value of find number four, none of them were as "big" and highly publicized as this one.
4. A mother lode of antiques (approximately $100,000)
Originally reported by StorageAuctionCentral.com, two high-value units were sold at a Manassas, Virginia storage auction in November 2011. As Bob, the successful bidder, told Storage Auction Central in an interview, the unit was apparently owned by a WWII General and included documents from the American Civil War (including items signed by former U.S. Presidents), a cane belonging to Harry Truman, rare artwork and other items of historical significance.
This find is notable because of the high price of the bid. The two units were sold together for $27,000 in one of the biggest-budget storage auction bids in recorded history. It was so apparent that the contents were valuable that the opening bid was a staggering $10,000.
3. One in a thousand (approximately $100,000-$200,000)
In the world of classic car enthusiasts, this would be the barn find to end all barn finds. Auctioneer Bill Fair came across a '66 Shelby Mustang, one of only 1,100 made, valued at about $200,000. This model, in perfect condition, has been sold for upwards of two million dollars. Most notably, the car was the property of automotive designer Carroll Shelby himself. It was once sold from his personal lot.
It should be noted that Fair wasn't actually conducting a storage auction when the car was found, and technically the car was shipped to San Antonio for a car-specific auction. But this is sometimes the case for extremely valuable items because a small audience of storage auction buyers wouldn't be able to place bids that would approach the items' true value. In the case of rare and collectible cars, the sad truth is that they are often sold separately from the rest of the storage unit.
2. Real storage treasures (approximately $500,000)
In the most recent find on this list, Storage Wars auctioneers Laura and Dan Dotson were conducting a storage auction in San Jose when a buyer literally struck gold. Laura tweeted from her @paytheladylaura Twitter account that the buyer – who has been identified simply as "John" – bought two units, one for $600 and one for $1100. The more expensive unit contained a chest full of gold and silver coins and bars. It took three men to carry it out.
Dan and Laura weren't filming for Storage Wars at the time of the auction, so don't expect this one on television anytime soon. And "John," according to Laura, is a complete storage auction newbie, so he probably won't be making the rounds on TV either.
1. Comically priced (sold for $2,161,000)
In a widely publicized April 2011 find, a near-mint copy of Action Comics Number 1 was found by the winner of a San Fernando Valley storage auction. This particular copy has an extremely rich history. This grade 9.0 collectible arose from obscurity in a 1992 Sotheby's auction—nobody knew such a pristine copy existed — where it sold for $82,500. Then Nicolas Cage bought it for about $150,000 in 1997.
In 2000, Cage reported the comic stolen, and it remained unfound for over a decade until that fateful auction day. It since sold on comic collector site ComicConnect.com for over two million dollars, which frankly makes the most impressive of Dave Hester's winnings look like chump change.
This article was written by Tony Emerson at SpareFoot.com. SpareFoot is the world's largest marketplace for self-storage. SpareFoot helps people find storage units for rent and reserve them to lock in the current price. SpareFoot also operates SelfStorage.com and a number of other domains. The company is headquartered in Austin, TX.
###