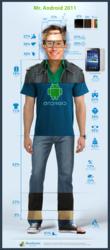 It came out pretty weird. Which is why we love it.
Campbell, CA (PRWEB) December 29, 2011
Android on Windows company BlueStacks has announced its first annual "Mr.Android." The company built a proxy for the average Android user employing data from Nielsen, along with a poll of its 145,000 Facebook fans.
The data revealed some interesting statistics, such as the fact that a full third of Android users have never downloaded a paid app, and more eccentric nuggets such as the fact that 18% reported having unusually large heads. 37% of Android users reported wearing glasses.
To turn the data into photos, the company turned to Brazilian designer Pablo de la Rocha. "I loved the idea of an amalgam of the different aspects of the Android user," said de la Rocha. "It's one of those things where you don't know how it's going to look until you try. It came out pretty weird, which is why we love it."
BlueStacks says it plans to release a "Ms.Android" in 2012. The Mr.Android graphic can be found at http://bluestacks.com/mr-android-2011/. The company has made embed code available at the bottom of the page.
BlueStacks recently announced its Android Apps on PC software passed 550,000 downloads since the release of its alpha version in October. A beta release is expected in the new year. The free download is available at http://BlueStacks.com.
About BlueStacks
BlueStacks enables Android applications to run on Windows machines. BlueStacks' technology can be integrated into offerings for both the consumer and commercial (enterprise) market segments. Incorporated in March 2008 by leaders in Microsoft Windows, mobility and Android development, BlueStacks is privately held and headquartered in Silicon Valley with global offices in India, Japan and Taiwan. For more information, visit BlueStacks.com.
Contact:
John Gargiulo
VP, Marketing + Business Development
John(at)BlueStacks(dot)com
(646) 261-9915
###