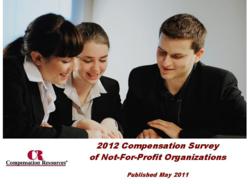 Upper Saddle River, NJ (PRWEB) December 29, 2011
Compensation Resources, Inc. (CRI) is pleased to announce that participation is now open for the 2012 Compensation Survey of Not-for-Profit Organizations. This survey, targeted to tax-exempt organizations, was designed to capture compensation data of positions within a broad range of not-for-profit classifications. This survey includes 117 jobs in the following departments:
Executive - Administrative
Customer Service - Finance
Finance - Healthcare
Healthcare - Human Resources
Information Systems - Legal / Compliance
Maintenance - Marketing / Communications
Materials - Not-For-Profit
The survey also covers compensation and benefit practices including compensation administration, merit increases, turnover, paid time off, and performance management practices.
All participant information will be held in the strictest confidentiality. All the data will be pooled; hence, individual responses cannot be traced back to any company in particular. Participants can purchase the results of this survey at a nominal fee of $115, whereas non-participants may purchase the survey for $450.
If you would like to participate, please visit our website at http://www.CompensationResources.com. If you would like more information regarding this or any of CRI's surveys, please contact Andy Sellers, Manager of Surveys, at (201) 934-0505 x115.
About Compensation Resources, Inc. (CRI): CRI provides compensation and human resource consulting services to mid and small cap public companies, private, family-owned, and closely held firms, as well as not-for-profit organizations. CRI specializes in executive compensation, sales compensation, pay-for-performance and incentive compensation, performance management programs, expert witness services, and custom surveys.
###