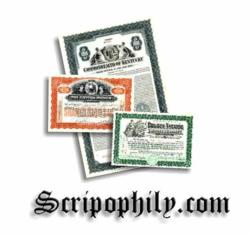 "Our company has been profitable each of the 16 years we have been in operations on the Internet." said Bob Kerstein. In fact, 2011 has been our most profitable year ever, with over 1.6 million visitors and 6.5 million page views during the year."
Washington, DC (PRWEB) December 29, 2011
Scripophily.com LLC is the internet's leading buyer and seller of authentic stock and bond certificates, and is celebrating its 16th successful year on the Internet. The company is the Internet's #1 Buyer and Seller of collectible stock and bond certificates and Old Stock and Bond Research Services.
Scripophily.com's online store has over 17,500 selections including categories such as Frauds, Scandals, Bankruptcies, Autographs, Dot Coms, as well as the traditional American and industries. "We offer a large variety of stock certificates including one from the original Standard Oil Company signed by John D. Rockefeller in 1875 as well as a Lehman Brothers Holdings, Inc. certificate issued in 2008, and everything imaginable in between" according to Bob Kerstein, Founder and Chief Executive Officer.
"Our company has been profitable each of the 16 years we have been in operations on the Internet." said Bob Kerstein. In fact, 2011 has been our most profitable year ever, with over 1.6 million visitors and 6.5 million page views during the year." Kerstein added.
Scripophily (scrip-ah-fil-ly) is the name of the hobby of collecting old stock and bond certificates. Values range from a few dollars to more than $500,000 for the most unique and rare. Tens of thousands of Scripophily buyers worldwide include casual collectors, corporate archives, museums and serious collectors.
The Gift of History has had items on display in the Museum of American Finance in New York, an affiliate of the Smithsonian Institution. Scripophily.com has been featured on CNBC, USA Today, Baltimore Sun, and Washington Post and in many other media publications.
Scripophily.com and Old Company.com was founded by Bob Kerstein, a Certified Public Accountant who has more than 35 years of senior management experience in the Cellular, Cable TV, Satellite, Internet, Professional Sports and Entertainment Industries. Bob is also the President of the Professional Scripophily Traders Association (PSTA).
For more information on Scripophily.com LLC, please visit http://www.scripophily.com, http://www.oldcompany.com and bob.com or call 1-703-787-3552.
# # #