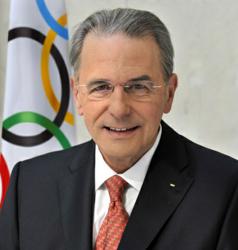 The Games of the XXX Olympiad will open on 27 July, when London will become the first city to host three editions of the Olympic Games
(PRWEB) December 29, 2011
The events of 2011 have put the International Olympic Committee and the Olympic Movement in a strong position as we look to 2012 and beyond. Over the course of this year, we took action to safeguard the integrity of sport, strengthened our ties to the United Nations and expanded our efforts to use sport as a tool for development — all while maintaining a strong focus on our core mission of ensuring successful Olympic Games.
The International Olympic Committee continued to take the lead in the fight against doping, with strong support from our International Federations and National Olympic Committees. We also took action against another scourge, illegal and irregular betting. The IOC has teamed up with governments, IFs, NOCs and betting operators for a collective action.
Our partnership with the UN is stronger than ever. Our collaboration is extending the reach of sport as a tool for peace, development and sustainability around the world. In September, I was pleased to represent the IOC at the UN General Assembly, promoting a greater role for sport in the fight against noncommunicable diseases. Earlier in the year, UN Secretary-General Ban Ki-moon participated in the 2nd International Forum on Sport, Peace and Development in Geneva, focusing on sport as a catalyst for achieving the UN Millennium Development Goals. Our work with the UN in 2012 will include initiatives related to the Rio +20 environmental summit in Brazil.
While Games organisers moved ahead this year with preparations for the 2012 London Games, the 2014 Sochi Games and the 2016 Rio Games, the IOC looked further into the future. Organisers in PyeongChang went to work almost immediately after the city was selected in July to host the 2018 Olympic Winter Games.
We have much to look forward to in the coming year. The first Winter Youth Olympic Games will get underway in Innsbruck on 13 January. Thanks to the support of our International Federations and National Olympic Committees, I am confident that this inaugural event will build on the success of the first Summer Youth Olympic Games in Singapore last year. We are also confident about the future Games in Nanjing, which will host the 2nd Summer edition in 2014, and in Lillehammer, host of the 2nd Winter edition in 2016.
The Games of the XXX Olympiad will open on 27 July, when London will become the first city to host three editions of the Olympic Games. The Games have already transformed East London and are poised to leave a great sports and development legacy to one of the world's most vibrant and cosmopolitan cities. I hope to see all of you there next summer.
For more information, please contact the IOC Media Relations Team:
Tel: +41 21 621 6000
###