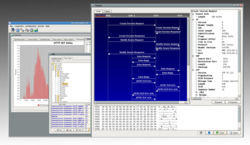 We're excited to finally have our first full-featured LTE offering on the market
Dallas, TX (PRWEB) December 30, 2011
Mobile Metrics is pleased to announce the immediate availiability of the Torrent 6100 LTE Test System for the Enhanced Packet Core Network. Using this system 4G LTE equipment manufacturers and wireless network operators can stress test their core network elements and verify that they peform correctly under a wide variety of traffic profiles.
Last month when it was first released, the Torrent 6100 successfully completed field interoperability tests with serving gateways and PDN gateways on the S11, S1-U, S5/S8, and SGi interfaces. Now in release 1.1, it has been agumented to allow for PCRF and IMS testing over the Gx and Rx interfaces. The 6100 is equally at home with performing simple functional tests such as initial-attach with accompanying visual trace, while also giving the user power of generating high capacity load tests with complex traffic profiles involving millions of UEs and thousands of eNBs.
In the coming months, the company anticipates releasing the Torrent 6240 for eNB and UE testing over live air, and the AirScan 650 for live air LTE protocol monitoring -- both of which are based on hardware and software developed for the Torrent 7240 and AirScan 750 respectively.
"We're excited to finally have our first full-featured LTE offering on the market," said Asa Atallah, the company's founder and CEO. "It took us a while because we were firmly entrenched in 4G OFDMA air interface R&D, and in developing a very wide array of new features for our existing products to benefit our customers. We knew that everything we were learning and developing could be used almost directly in our LTE offerings, and that's already proving to be the case with the 6100 which is the highest performance, most flexible solution we've offered for the core network to date."
In initial tests, the Torrent 6100 was demonstrated to achieve well over 30,000 (and in some configurations 37,000) initial attaches per second. Although the Torrent 6100 data plane performance is already superior to its 7100 counterpart, it features a completely new data plane architecutre which when fully released in 1.2 is expected to achieve tens of gigabits per second on a single machine based on initial test results. The 6100 incorporates vast amounts of software from it's counterparts in the Torrent series as they're all based on the same software framework; however the 6100 features numerous enhancements and innovations of its own. For example, beyond the new data plane architecture, it is the first in the Torrent series to support both IPv4 and IPv6 for both emulated mobiles and emulated network nodes.
About Mobile Metrics
A technology leader it its field, Mobile Metrics Inc focuses exclusively on developing test solutions for wireless data networks, particularly 4G WiMAX and LTE. Contact Mobile Metrics at 877-404-2600, or visit http://www.mobilemetrics.net.
###