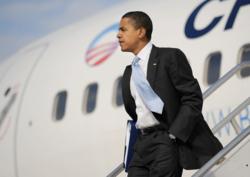 Guests become part of a search and rescue team for the President's birth certificate during Hawaii Tours' new tour package.
Honolulu, HI (Vocus/PRWEB) February 03, 2011
Playing with the notion that President Obama's long-form birth records may be missing, Hawaii Tours introduces the 'Find President Obama's Birth Certificate" tour package that includes sightseeing and a little bit of detective work for visitors to the beautiful Hawaiian Islands. While on tour, guests become part of a search and rescue team for the President's birth records while island hopping, exploring active volcanoes, visiting the Pearl Harbor Memorial, journeying 120-miles around the Island of Oahu and enjoying a traditional luau at Paradise Cove.
This Hawaii tour begins with a flight from Honolulu to Hilo on the Big Island and includes an exploration of the natural wonders of Volcano National Park, home to the Kilauea Volcano. There, guests may seek the knowledge of Pele, the Hawaiian Fire Goddess, for news relating to President Obama's birth certificate. Visitors are taken to the Jagger Museum, Thurston Lava Tube and the Volcano House before flying back to Oahu.
The Big Island Volcano Tour is followed by the Pearl Harbor & Circle Island Tours. The Pearl Harbor Memorial is one of the most visited attractions in Hawaii. Many dignitaries, including President Obama and his family have paid their respects there. At Pearl Harbor, guests have the opportunity to board an authentic Navy launch and cross the crystal blue harbor to the USS Arizona Memorial. The Circle Island Tour is a 120-mile tour around the Island of Oahu visiting the Dole Plantation, the Nu'uanu Pali Lookout, Makapu'u and upscale Kahala, sometimes referred to as the "Beverly Hills of Hawaii." The tour concludes with views of a tropical rain forest and the famous North Shore beaches.
"No tour is complete without a Hawaiian Luau," says George Kaka of Hawaii Tours, "which is why we take our guests to the Paradise Cove Luau for one of the best luaus on the island." The highlight of the evening is the imu ceremony, where the roasted kalua pig is unearthed and Hula dancers perform to Hawaiian music as the sun sets and the evening turns to night.
"'Find the President's Birth Certificate' tour package was conceived to bring a lighthearted, adventurous aspect to touring the Hawaiian Islands," says Kaka. "We believe in weaving relevant and recent history into our tours, when possible."
Hawaii Tours works exclusively with a staff of native Hawaiian tour guides, certified as some of the best on the island. As a travel and tour agency with over 150 tours available throughout all the Hawaiian Islands, their certified tour guides offer an up close and personal Hawaiian experience that only native guides can provide.
Media Contact:
Name: George Kaka
Telephone: (888) 753-7277
Email: george(at)hawaiitours(dot)com
Website: http://hawaiitours.com
###