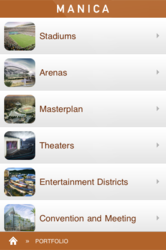 "You can come face-to-face with a prospective client in a conference room, in a coffee shop, or on a plane," says Clickfarm's Creative Director, Brett Wacha. "Now your portfolio can be there with you."
Kansas City (Vocus/PRWEB) February 04, 2011
Thanks to a new iPhone app, Kansas City-based MANICA Architecture has just added portability to its portfolio. Created by Clickfarm Interactive, the app enables the well-known architecture firm to showcase its work like never before. Touted as a "portfolio in your pocket," it also puts contact information and social media links right at clients' fingertips.
"You can come face-to-face with a prospective client in a conference room, in a coffee shop, or on a plane," says Clickfarm's Creative Director, Brett Wacha. "Now your portfolio can be there with you."
David Manica, Architect and Company Owner, agrees. "Having a tool in our pocket that represents our work so well is invaluable to us. It's much better than a mobile website because a client can connect to us at any of our locations immediately by phone, email or Google Maps right from the app."
Indeed, the app includes About, Services, Website, Contact, Facebook and News. And then there's the Portfolio tab, which provides the viewer access to Manica's broad array of work: Stadiums, Arenas, Masterplans, Theaters, Convention and Meeting Centers, Entertainment Districts, Design Consulting—even the company's Press and Advertising.
The app handles still photographs and videos equally, and is entirely content managed, making it easy to swap in and out new work. Architects, photographers, directors, animators, interior designers—any pro with work to show—you too can have a pocket portfolio.
http://itunes.apple.com/us/app/manica-architecture/id386415518?mt=8
For more information about MANICA Architecture app, please visit http://www.ManicaArchitecture.com or call 816-421-8890.
CLICKFARM INTERACTIVE offers fresh digital communications strategy, web design, web development, mobile apps, search engine marketing, search engine optimization and email marketing to its clients and agency partners. Please visit http://www.ClickfarmInteractive.com or call 816-698-5054.
# # #