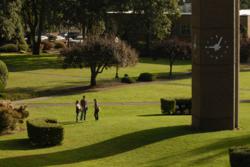 Newberg, Ore. (Vocus/PRWEB) February 05, 2011
Prospective college transfer students who apply to George Fox University after Tuesday, March 1, will be considered for admission on a space-available basis.
With fall undergraduate applications up 16 percent in comparison to this time a year ago, space is at a premium on campus and the school plans to resort to a wait list for the second consecutive fall, according to Ryan Dougherty, director of undergraduate admissions.
Those interested in applying may do so online at apply.georgefox.edu. More information is also available by calling the undergraduate admissions office at 1-800-765-4369, ext. 2240. Transfer students who have questions can visit georgefox.edu/college-admissions/student/transfer-guide.html or call Dot Tobey at 503-554-2245.
For those who qualify, transfer merit scholarships, awarded at the time of admission, are worth $4,000 to $6,000 annually and are based upon prior college course work. The university also offers a variety of academic and activity-based merit scholarships. To permit maximum consideration for merit-based financial aid, it is recommended that the application process be completed as soon as possible.
If applying for financial aid, students should submit the Free Application for Federal Student Aid (FAFSA) to the appropriate agency. Forms may be obtained from college or university financial aid offices.
George Fox strives to make the transfer process as smooth a transition as possible. Students who have completed work at other educational institutions may be granted transfer credits after presenting official transcripts. George Fox will apply the accepted credits toward that student's general education requirements, electives, and chosen major.
The need for a wait list last fall came in a year that saw George Fox break its enrollment record and welcome a freshman class with the best academic credentials since 2003. A record 3,484 students – including 655 new traditional undergraduate students – enrolled in the private university, marking a 3.3-percent increase over 2009's 3,368 total. The academic quality of students also increased, as the average freshman recorded a 3.6 high school grade point average and a 1,113 SAT score.
George Fox University is ranked by Forbes as the top Christian college in the Pacific Northwest and among the top three Christian colleges in the country. George Fox is the only Christian university in the Pacific Northwest classified by U.S. News & World Report as a first tier national university. More than 3,400 students attend classes on the university's campus in Newberg, Ore., and at teaching centers in Portland, Salem, and Redmond, Ore., and Boise, Idaho. George Fox offers bachelor's degrees in more than 40 majors, degree-completion programs for working adults, five seminary degrees, and 11 master's and doctoral degrees.
Contact:
Dot Tobey
Office of Undergraduate Admissions
503-554-2245
# # #